Boise, Idaho, sits nestled among the Boise Foothills and the Boise National Forest. These areas are home to several wildlife preserves, nature reserves, and trail systems. Trails for hikers, bikers, walkers and horseback riders abound, so whatever activity you're looking to take part in, there are plenty of hikes near Boise.
The trails in the Boise Foothills boast beautiful birds-eye views of the city. Varying in complexity, these trails are great for walking, birdwatching, and in some cases, watching stunning sunsets. Throughout the Boise National Forest, you'll find granite outcroppings, historic sites, lakes and rivers, wildlife, and waterfalls. The best part is that there are trails to suit every need and experience level, whether you're a small child who's just starting out or an experienced hiker.
Let's take a look at some awesome hikes near Boise!
Best Beginner Hikes Near Boise
For those new to hiking or for those with small children, we will start off with some "easy" hikes. These trails will be relatively smooth, have little to no elevation change, and won't require special equipment like trekking poles.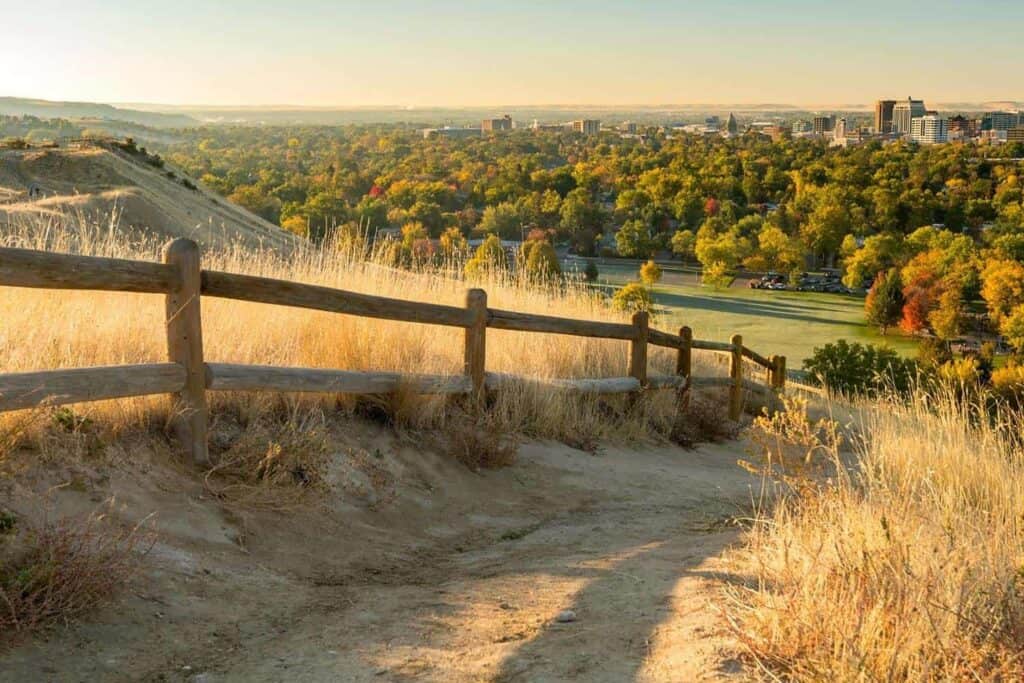 Oregon Trail
At just one mile, the Oregon Trail is great for young kids or beginners. It boasts interpretive signs and ruts from the wagons of the original travelers. It's also mostly flat, meaning no special equipment or boots will be needed.
Eagle Rock Loop
This two-mile multi-trail loop is relatively smooth and has a minor elevation change. This, combined with the trail's birds-eye views of Boise, make it a fun thing to do with kids.
Bethine Church River Trail
At 1.6 miles, this pedestrian-only trail offers a shaded walk along the Boise River Greenbelt. Along the way, kids can learn about riparian vegetation, view nesting animals, and spot fish in streams.
Heroes Trail
As part of the 190 mile Ridge to Rivers Trail System, the Heroes Trail was dedicated to veterans and healthcare workers to honor their contributions to the community. Although it's a shorter hike, only .8 miles, this trail offers a great educational opportunity for children.
Elephant Rock Loop
This half-mile lollipop trail is conveniently located just outside of Boise. It's a great way to burn off a little energy, and the best part is that it boasts a giant, elephant-shaped rock the youngsters can climb on.
Best for Views/Atmosphere
There are several reasons some trails become more popular than others. Most hikers prefer their trails to have some type of view or natural feature to explore. A waterfall, good spots for birdwatching, or a cliff that overlooks a valley are all ideal features on a trail. In addition, trails that house historic sites can be a lot of fun to explore.
Table Rock Trail
Table Rock Trail is a 3.7-mile hike through the Boise foothills. It offers birds-eye views of Boise, and if you hike at the right time of day, you can catch a beautiful sunset.
Adelmann Mine
Located on the Boise River Wildlife Management Area, this trail is a 4.7-mile out-and-back trail that leads to the abandoned Adelmann Mine.
Idaho is home to some great mining ghost towns,
11 Idaho Ghost Towns You'll Never Forget
Camels Back Trail Loop
If you want to enjoy some pretty views and get a bit of a workout, the 2-mile-long Camels Back Trail Loop will suit your needs. This trail is steep in some parts, and to get a view of Boise, you can climb a steep set of stone stairs to take the city in from above.
Harrison Hollow Trail
Harrison Hollow is a .9 mile trail that gives you lovely views of the Boise Foothills, Bogus Basin, and the city itself. In the warmer months, wildflowers are abundant.
Hulls Gulch Nature Trail
This pedestrian-only interpretive trail is an excellent option if you'd like to learn a bit more about the history of the Boise Foothills. Hulls Gulch Nature Trail ties into the Camels Back Trail Loop if you'd like to extend your trip a bit.
I bet you could use a Hot Spring right about now!
10 Ohhh So Good Hot Springs Near Boise
Best for Experienced Hikers
The Boise area has no shortage of epic hikes if you're looking for something more challenging. Challenge yourself to these Boise hikes as grueling day hikes or take your time with an overnight backpack.
Cottonwood Creek Trail
This 16-mile trek features views, fishing, and camping, making it a great option if you want to do an overnight hike and live off the land a bit.
Willow Creek Loop
A 10-mile out-and-back, the Willow Creek Trail also provides access to many other trails on the Danskin Trail System. This trail is excellent if you're looking for something a bit more rugged. There are multiple creek-crossings with no bridges so come prepared with proper waterproof hiking boots. It also features a hot spring, but you'll have to venture off the path to see it.
Mount Heinan North Route
This 9-mile out-and-back is an excellent option for hiking, camping, horseback riding, and biking in the Boise Mountains. If you're interested in splitting your hike over two days, there are sites along the way where you can set up camp for the night.
Dry Creek – Shingle Creek
This trail is part of the Ridge to River Trail System that lies just north of Boise. There are multiple waterway crossings, scenic outcroppings, and a maximum elevation of approximately 5,600 feet. The trail's difficulty varies along the way, so a set of trekking poles will come in handy.
Toxaway to Alice Lake Loop
This 19-mile loop takes you on a meandering hike through the Sawtooth Mountains. The trip generally takes about 2-3 days, depending on your pace and goals. There are plenty of places to camp along the trail, and it's not a highly-trafficked route, so you'll have no problem finding some serenity.
Boise Idaho Hiking
As you can see, Boise offers trails for every need and skill level. Whether you're looking for a short stroll or an overnight stay on the trail, you'll have no problem finding what you need. Happy hiking!
You might also enjoy:
15 Best Places To Visit In Idaho
15 Boise Attractions You Can't Go Wrong With
11 Funky And Cool Places To Stay In Idaho