Do you love exploring abandoned places? Are you a fan of history and the Wild West? If so, Idaho is the perfect destination for you! From small mining towns to larger cities, Idaho is home to many ghost towns that are just waiting to be explored. Whether you're looking for a spooky adventure or simply want to discover the past, Idaho's ghost towns offer something for everyone. So buckle up and join us as we take a closer look at some of these fascinating historical sites!
The ghost towns of Idaho will transport you back to a time when people lived by a different code and worked hard for their survival. In many cases, these towns have a colorful past filled with stories of miners, ranchers, performers, and even outlaws! The remains of old saloons, churches, hotels and other structures give visitors an insight into the lives of those who lived there before them.
So whether you're an adventure seeker or simply curious about Idaho's rich history – don't miss out on visiting one of Idaho's unique ghost towns.
Warren Idaho
If you're looking for a creepy ghost town with a lot of character Warren is for you. Warren established itself as a gold mining district on July 22, 1862. From 1866 to 1868, Warren was the most prosperous mining town in Northern Idaho. Then, in 1874, Chinese miners dominated the mining industry and further developed Warren until 1876.
When in Warren, tourists can indulge in the "Warren Historic Walking Tour" to see the buildings and hear stories about the town. Another highlight is the Chinese Gardens, located eight miles from Warren.
The town's historic artifacts provide a glimpse into the heritage and culture of the Chinese-American settlers during Warren's economic prosperity.
Don't miss the Warren Baum Shelter for some great food or a cold beverage. It's a great little tavern which is full of history and some unique artifacts.
Pierce Idaho Ghost Town
Captain E.D. Pierce found Pierce as he led a group in search of minerals. Pierce marks the beginning of Idaho's gold mining as one of the state's first mining districts.
Life still exists in Pierce. In 2019, the town's population had 553 residents, according to the United States Census Bureau. A notable building is the Pierce Courthouse which is a historical reminder of Pierce's mining days.
While Pierce is not technically a ghost town, it is notable since it is one of Idaho's first mining towns. When in Pierce, tourists should visit the Pierce Courthouse and the J. Howard Bradbury Logging Museum.
If you happen to be in Idaho in August, consider visiting Pierce during their "1860s Days," an event hosted by the town to celebrate its beginnings and contribution to the Idaho gold rush.
Placerville
Placerville is one of the gold mining towns discovered during the Idaho gold rush. In 1862, Placerville, along with Idaho City and Centerville, were the top Idaho mining camps. Early days attracted thousands of residents to Placerville, but Idaho City later surpassed Placerville due to its long-lasting water supply in the spring.
Placerville is one of the old mining towns in the Boise Basin where remnants of the district still exist.
Silver City Ghost Town
Silver City is one of the mining towns that didn't burn down. Fortunately, the mining town survived through the 1875 California Bank Failure and, during that time, managed to produce a yield of about $40 million.
Visiting Silver City is like "taking a step back in time" due to the vast historical buildings that still stand. In particular, the Idaho Hotel is a notable attraction that appears as it did 100 years ago.
De Lamar Ghost Town
Joseph DeLamar, a former sea captain, established De Lamar in 1888 and cleverly named it after himself. His creativity quickly paid off as the town grew to great wealth and prosperity due to large silver deposits that were uncovered in the nearby Owyhee Mountains.
De Lamar experienced tremendous success in a short amount of time, but when the mining industry began to dwindle, many residents left in search of employment and more prosperous prospects. The situation worsened further after World War I as plummeting silver prices caused an additional exodus from De Lamar. Ultimately, these departures led to its ultimate abandonment by 1914.
Despite some buildings enduring the test of time, many have been reduced to ashes due to fires. The De Lamar area currently encompasses an expansive 1,600 acres and is recognized by the National Register of Historic Places.
Rocky Bar Idaho
When miners searched for more gold outside of the Boise Basin, they found the Rocky Bar. Rocky Bar was a mining camp, and it, unfortunately, closed down during the war in 1942.
Rocky Bar is truly a ghost town that brings frequent visitors every year. A notable tourist attraction is the Rocky Bar Masonic Hall that George Golden rebuilt in 1892 after it burned down.
Leesburg Mining Camp
Miners found Leesburg during the mining expansion in Montana. In 1866 they found gold, and 500-600 miners decided to settle in Leesburg. During the camp's mining days, they reached a population of about 2,000, and in 1868 they produced $100 million in gold.
Not much remains in Leesburg except some dilapidated buildings. When there, you will see plaques that contain photos and historical information about the town.
Custer and Bonanza Ghost Town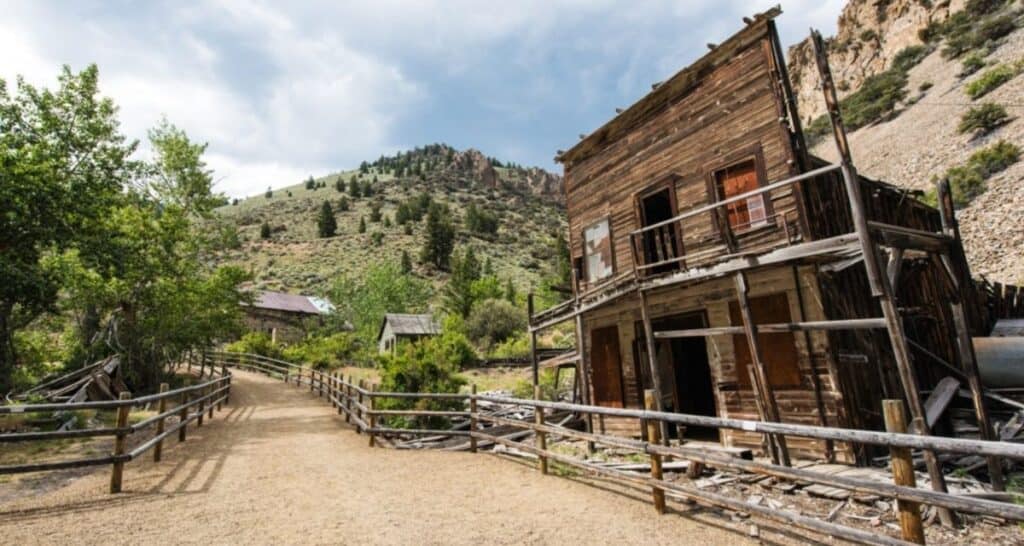 Nestled on the westernmost edge of Salmon-Challis National Forest, you'll find Bonanza and Custer Ghost Town. All that stands between you and this historic destination is a 20 minute drive down Route 75 until Sunbeam, then followed by a left onto Yankee Fork Road. In no time at all, these creepy ghost towns will come into view to your left!
In 1878, Bonanza and Custer Ghost Town were established as two distinct towns that eventually became one due to their close proximity. After the General Custer Mill revealed to be a wealth of tetrahedrite, sphalerite, and chalcopyrite, towns sprung up around it in no time. The mine fueled its inhabitants for years until early 1900s when miners decided to seek more lucrative prospects elsewhere.
The majority of the remaining structures are well-maintained, creating an opportunity for tourists to take a step back in time. Detailed maps and informative historical markers can help you gain further insight into this town's past.
In addition to the many preserved buildings, visitors can also take a short walk up from the ghost town and explore one of America's best-maintained gold dredges – The Yankee Fork Gold Dredge. It is certainly worth seeing!
Bayhorse Ghost Town
Step back in time and explore the mining past of historic Bayhorse Ghost Town, one of the most well-preserved ghost towns in Idaho! Here visitors will uncover a range of sites such as charcoal kilns, cabins, a cemetery and even an old saloon – all near pristine Salmon River.
The Bayhorse Ghost Town, nestled beside Idaho's Salmon River, was once home to miners who were on the hunt for gold and silver. When locals first established it in 1877, there weren't many inhabitants – but when news spread of their mineral findings, residents began flocking in droves!
As the town expanded, so did its requirements. To make transportation of minerals easier, citizens constructed an aerial tramway to wagons. Unfortunately, tragedy struck a few years later when part of Bayhorse Ghost Town was set ablaze. Shortly after this incident there began a scarcity of water which further eroded the town's population until it was deserted by the 1920s and never recovered from its devastation.
Cariboo City
Miners arrived at Cariboo Mountain on Sept. 8, 1870. Residents named the town after Jesse Fairchilds, better known as "Cariboo" Fairchilds, because of his work in the Cariboo mines in British Columbia.
Most of the Cariboo Mountain mining camp burned down in 1885, and, sadly, it was never rebuilt. Even though very few structures remain, visitors can still explore the mining ruins.
Chesterfield Ghost Town
When exploring the numerous ghost towns of Idaho, you can often sense a peculiar and eerily spooky feeling. After all, that's why they're called "ghost" towns! Yet in spite of its title as an abandoned settlement, Chesterfield is surprisingly peaceful. Visiting this place is an experience unlike any other ghost town. Walking through the restored log cabins, constructed in 1881, you can feel a profound connection to the past and appreciate all of the care that went into creating this beloved community during its peak years.
Embark on an unforgettable journey back in time when you explore Chesterfield – the one-of-a-kind, forgotten town of Idaho. Come experience its captivating charm and be mesmerized by its alluring atmosphere!Venture through the past and explore a hidden gem in the Portneuf River Valley- Chesterfield. This historical city lies between Lava Hot Springs and Soda Springs on the Oregon Trail, allowing you to step back in time with its charming atmosphere.
In 1881, Mormon settlers chose to establish the town without prompting from Church authorities – a decision that was unique among many other Mormon settlements of the time.
Wickahoney Ghost Town Ruins
Idaho's southwest corner is the perfect paradise for anyone seeking untamed beauty, from endless stretches of sagebrush and breathtaking basalt canyons. But in this region lies a forgotten secret — Wickahoney, an abandoned town that hides many stories within its ruins.
Although it may not seem so today, Wickahoney was once a flourishing stop along the route from Mountain Home, Idaho to Mountain City, Nevada. This path served as an important supply line for the mines in northern Nevada and saw many lively travelers pass through its quaint little station.
Thousands of adventurers traveled to Idaho dreaming of finding their fortune in the state's booming mining industry. From these humble beginnings, entire towns were built – however, many eventually failed as miners moved on once gold and silver had been extracted from the ground. Today, all that remains are ghost towns like this one – testament to a bygone era when individuals risked everything for potential riches. Once a busy waypoint between booming mining settlements, Wickahoney is now nothing but crumbling remains left to the relentless march of time and nature.
Burke Ghost Town Wallace Idaho A True Mining Community
Take a short drive from the well-known town of Wallace a true mining community in North Idaho and you'll find Burke Ghost Town. Although the Burke Road canyon has been declared polluted by the EPA, it remains a spectacular sight to behold. Unfortunately, some locals still call this place home despite its hazardous condition.
The ruins of this deserted town are absolutely remarkable. The structures still stand proud, and it's easy to envision the city alive with activity in its heyday.Despite its quietness, the town of Burke is burdened by a painful past. Founded in 1887, it has endured immense grief throughout its existence.Through all of the trials and tribulations, such as labor disputes between miners and mine owners to natural disasters like avalanches or fires, Burke was a resilient town that endured for nearly one hundred years. Though only a few people live in this area today, visiting its picturesque ruins is an experience filled with reflection on days gone by.
Tips For Exploring Idaho Ghost Towns
When exploring the backcountry of Idaho it's always a good idea to pack the 10 essentials and make sure you're ready for an unexpected night over. You'll likely have no cell service in these areas so getting help can take some time.
When visiting Idaho's ghost towns, remember to bring water, snacks, sunscreen, and a first aid kit.
Ghost towns usually consist of rough terrain, so wear hiking or athletic shoes.
Keep an eye on the little ones, kids and pets, as there can be some unmarked hazards around these old buildings
Most importantly, have a blast and get your eyes on these treasures before they're gone.
You may also enjoy:
45 Idaho Hot Springs Maps and Guides
​​10 Unforgettable Fire Lookout Rentals in Idaho
11 Incredible Day Trips From Boise, Idaho