Idaho has a rich history as a prosperous mining state that, during its prime in the 19th century, brought thousands of optimistic people in search of gold and other minerals. As a result, there are hundreds of decrepit Idaho ghost towns that are now popular tourist destinations.
Now is the time to visit these historic sites as they will not last forever. Let's have a look at 11 of the best Idaho ghost towns to visit!
Warren Idaho
Warren established itself as a gold mining district on July 22, 1862. From 1866 to 1868, Warren was the most prosperous mining town in Northern Idaho. Then, in 1874, Chinese miners dominated the mining industry and further developed Warren until 1876.
When in Warren, tourists can indulge in the "Warren Historic Walking Tour" to see the buildings and hear stories about the town. Another highlight is the Chinese Gardens, located eight miles from Warren.
The town's historic artifacts provide a glimpse into the heritage and culture of the Chinese-American settlers during Warren's economic prosperity.
Don't miss the Warren Baum Shelter for some great food or a cold beverage. It's a great little tavern which is full of history and some unique artifacts.
Pierce Idaho Ghost Town
Captain E.D. Pierce found Pierce as he led a group in search of minerals. Pierce marks the beginning of Idaho's gold mining as one of the state's first mining districts.
Life still exists in Pierce. In 2019, the town's population had 553 residents, according to the United States Census Bureau. A notable building is the Pierce Courthouse which is a historical reminder of Pierce's mining days.
While Pierce is not technically a ghost town, it is notable since it is one of Idaho's first mining towns. When in Pierce, tourists should visit the Pierce Courthouse and the J. Howard Bradbury Logging Museum.
If you happen to be in Idaho in August, consider visiting Pierce during their "1860s Days," an event hosted by the town to celebrate its beginnings and contribution to the Idaho gold rush.
Placerville
Placerville is one of the gold mining towns discovered during the Idaho gold rush. In 1862, Placerville, along with Idaho City and Centerville, were the top Idaho mining camps. Early days attracted thousands of residents to Placerville, but Idaho City later surpassed Placerville due to its long-lasting water supply in the spring.
Placerville is one of the old mining towns in the Boise Basin where remnants of the district still exist.
Silver City Mine
Silver City is one of the mining towns that didn't burn down. Fortunately, the mining town survived through the 1875 California Bank Failure and, during that time, managed to produce a yield of about $40 million.
Visiting Silver City is like "taking a step back in time" due to the vast historical buildings that still stand. In particular, the Idaho Hotel is a notable attraction that appears as it did 100 years ago.
De Lamar Historic Mine
De Lamar became a mining town in 1886 when Joseph R. DeLamar decided to investigate what the area had. The town stands six miles West of Silver City, and both De Lamar and Silver City contributed "over one million ounces of gold and twenty million ounces of silver."
De Lamar has a couple of remaining buildings that you can visit.
While visiting these fine ghost towns be sure to plan your road trip along Idaho's Scenic Byways
Rocky Bar Idaho
When miners searched for more gold outside of the Boise Basin, they found the Rocky Bar. Rocky Bar was a mining camp, and it, unfortunately, closed down during the war in 1942.
Rocky Bar is truly a ghost town that brings frequent visitors every year. A notable tourist attraction is the Rocky Bar Masonic Hall that George Golden rebuilt in 1892 after it burned down.
Leesburg Mining Camp
Miners found Leesburg during the mining expansion in Montana. In 1866 they found gold, and 500-600 miners decided to settle in Leesburg. During the camp's mining days, they reached a population of about 2,000, and in 1868 they produced $100 million in gold.
Not much remains in Leesburg except some dilapidated buildings. When there, you will see plaques that contain photos and historical information about the town.
Bayhorse, Custer, Bonanza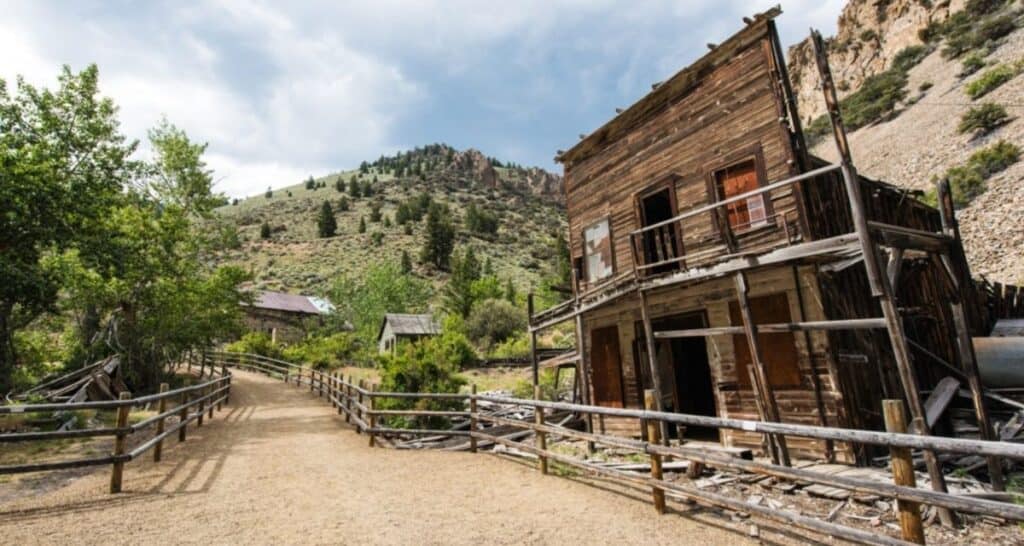 Custer, Bonanza, and Bayhorse reside in the Sawtooth National Forest. Visitors can go to the interpretive center near Challis to learn about the surrounding mining towns: Bonanza, Custer, and Bayhorse.
Bayhorse was one of Idaho's central mining districts. By 1980, the total production of silver-lead and zinc exceeded $42 million.
Custer was discovered in 1879 and grew to a population of 600 in 1896. Today, it is a ghost town where visitors can pan for gold, purchase souvenirs, and partake in a walking tour.
Bonanza and Custer were "sister cities," as they relied on and thrived off of one another. The two towns worked harmoniously and, unfortunately, by 1911, production ceased due to a shortage of gold.
Moreover, people restored Custer, but Bonanza remains a traditional ghost town.
Cariboo City
Miners arrived at Cariboo Mountain on Sept. 8, 1870. Residents named the town after Jesse Fairchilds, better known as "Cariboo" Fairchilds, because of his work in the Cariboo mines in British Columbia.
Most of the Cariboo Mountain mining camp burned down in 1885, and, sadly, it was never rebuilt. Even though very few structures remain, visitors can still explore the mining ruins.
Tips For Exploring Idaho Ghost Towns
When exploring the backcountry of Idaho it's always a good idea to pack the 10 essentials and make sure you're ready for an unexpected night over. You'll likely have no cell service in these areas so getting help can take some time.
When visiting Idaho's ghost towns, remember to bring water, snacks, sunscreen, and a first aid kit.
Ghost towns usually consist of rough terrain, so wear hiking or athletic shoes.
Keep an eye on the little ones, kids and pets, as there can be some unmarked hazards around these old buildings
Most importantly, have a blast and get your eyes on these treasures before they're gone.
You may also enjoy:
45 Idaho Hot Springs Maps and Guides
​​10 Unforgettable Fire Lookout Rentals in Idaho
11 Incredible Day Trips From Boise, Idaho