When it comes to downtown Boise attractions, the city of trees has a lot to offer. Idaho's capitol city of Boise is packed with entertainment, shopping, restaurants, adventure, and amazing nightlife.
Situated along the Boise river and the Boise River Greenbelt there's no shortage protected lush greenery should you need a break from the city. But when you're ready for something more urban you can make your way to the local markets and unique cafes and restaurants that make Boise one of the fastest growing cities in the country.
Regardless if you're an art lover or inspired by nature, the city offers something for everyone. Best of all, if you're visiting with kids there's plenty for them to do as well. Like a visit to an interactive museum, the Boise Zoo or Aquarium.
1. Hyde Park – Boise NOrthend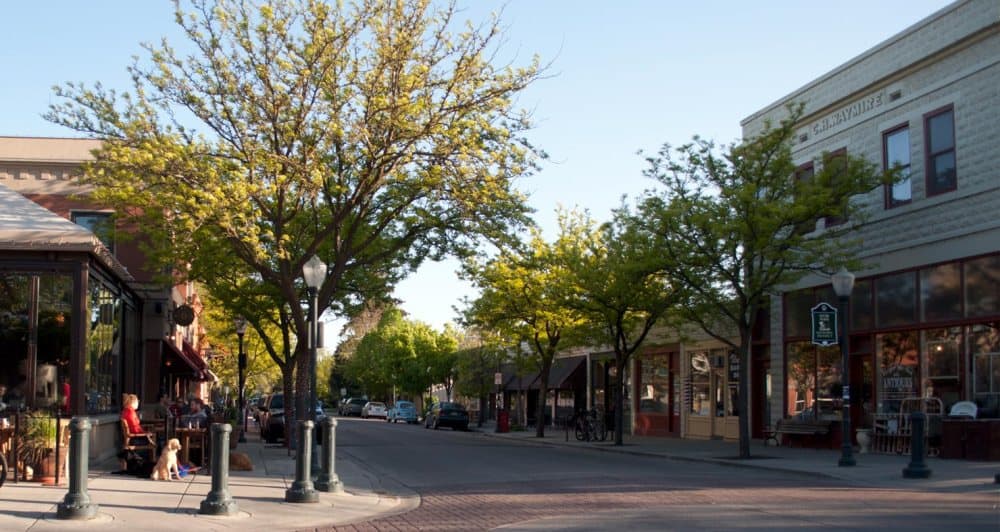 1413-1620 N 13th St, Boise, ID 83702
The charming, historic and eclectic, Hyde Park is a true gem of Boise and should not be missed. Hyde Park is a break from the towering buildings of downtown and instead feels like a quant neighborhood bustling with activity.
The historic main street and buildings with distinct architecture are perfectly paired with some of the best restaurants and cafe's of Boise. What's more is you're just blocks away from Camel's Back Park and the Boise Foothills.
So go for a quick hike and then cozy up at one of the many outdoor patios where you can enjoy the people watching and some terrific food and drink.
2. Zoo Boise
355 Julia Davis Dr, Boise, ID 83702
Zoo Boise is home to over 200 animals with many endangered and rare species. The Boise Zoo hosts interactive exhibits where you can feed and touch the animals which are always a hit with the kids.
They also feature themed attractions like "Giraffe Encounters" and "Butterflies in Bloom." Most importantly you'll leave full of new knowledge with their education center and animal presentations where you can learn more about your favorite animals.
3. Camel's Back Park
1200 Heron St, Boise, ID 83702
Situated at the base of the Boise foothills and just blocks from the eclectic Hyde Park area sits Camel's Back Park. This large open space with playground and restrooms is home to miles of beginner friendly hiking trails and mountain bike trails.
The short but steep path with stone steps that takes you to the top of the hill is one of Boise's finest viewpoints and is an ideal spot to catch a sunset. Other activities include tennis courts, sand volleyball, and large grassy area perfect for throwing the frisbee.
Don't miss these iconic Boise Idaho Events,
Bucket List Boise Idaho Festivals You're Probably Missing
4. Freak Alley
In heart of downtown sits a favorite Boise attraction, Freak Alley. Said to be the largest outdoor gallery in the Northwest, this alley way is home to numerous murals and graffiti. What started as a single mural in 2002 has evolved into an absolute masterpiece of local talent.
As new artists add their touch and incorporate older paintings into their own, this ever-changing work of art almost feels as though it's alive.
5. Basque Museum and cultural center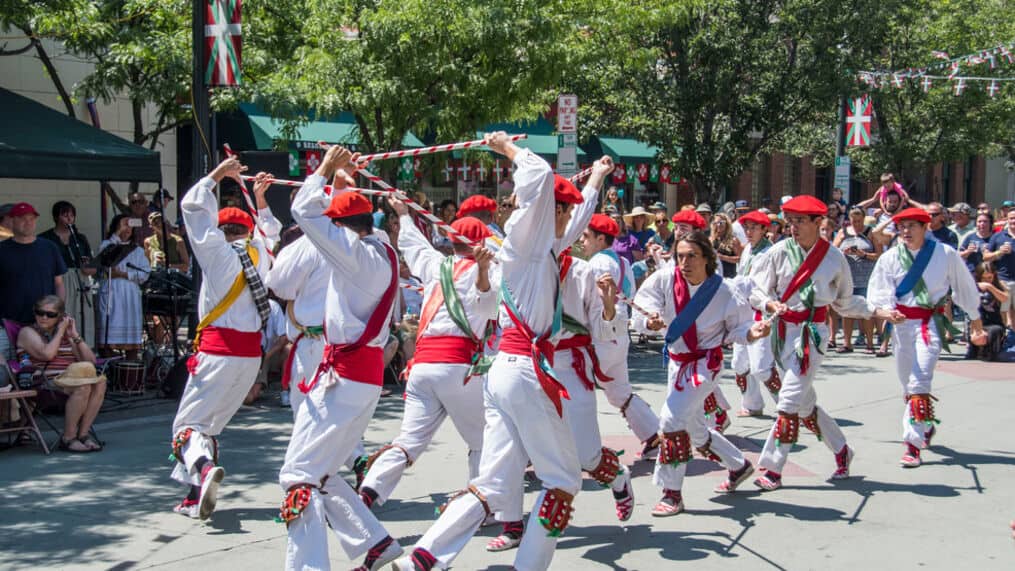 611 W Grove St, Boise, ID 83702
Opened in 1985 the Basque Museum and Cultural Center is the only Basque museum in the united states. The site of the museum is actually a former Basque boarding house and is also known for being the oldest brick building in the city of Boise.
Most people are surprised to learn that Boise is home to the largest concentration of Basque people outside of Spain, and a stroll through the thriving community reveals a world of culture, history and tradition.
The San Inazio Festival is an annual event to honor St. Ignatius of Loyola, the patron saint of the Basques. It began more than 25 years ago and now thousands come to the Basque Block at the end of every July to see local musicians and dancers as well as Basque sporting events. And the food is amazing!
6. Boise River Greenbelt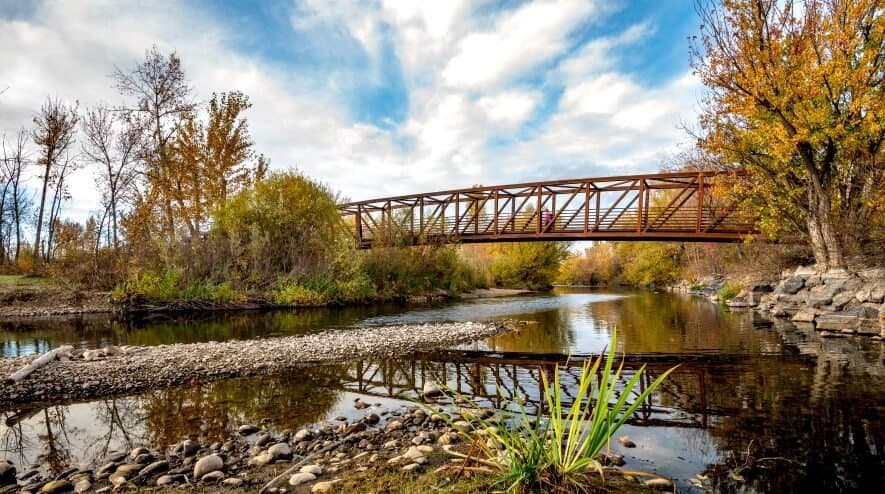 The 25 mile long Boise River Greenbelt runs right through the heart of Boise Idaho. It's the perfect escape from the hustle of the city where you can enjoy a taste of nature as you stroll along the river.
When the weather's right you can even float the river on a SUP or inner tube to escape the summer heat. There are numerous points along the Boise Greenbelt worth visiting.
Lucky Peak State Park – The perfect place for swimming, picnicking, fishing, boating, biking, and more.
Quinn's Pond – Boise River's "outdoor gym" where you can rent a paddleboard, take a swim, or layout on the beach.
Julia Davis Park – The city's oldest park, home to Municipal Rose Garden and various outdoor amenities.
Willow Lane Athletic Complex – Featuring several softball fields, a soccer field, playground, and dirt jump park
Shoreline Park – With grassy open areas, picnic benches, and a river overlook.
Natatorium Pool – Voted Boise's best public pool, offers a 12-foot deep pool, waterslide, and diving area.
Warm Springs Golf Course – An 18-hole championship course shaded by trees and located on the banks of the Boise River.
Marianne Williams Park – The 72-acre site located on the Boise River, with an abundance of beautiful pathways.
Quail Hollow Golf Course – A 7-star golf course, offering a full-length driving range, putting green, and a full service pro shop.
Idaho Anne Frank Human Rights Memorial – An educational park inspired by Anne Frank's faith in humanity.
7. Capitol Boise City Market
910 W Main St Suite #242, Boise, ID 83702
What started as a small Boise city public market in the early 90's is now home to over 150 local vendors from all over Idaho. If you're looking for the freshest produce or a unique gift there's no better place.
The Boise Capitol City Market spreads across 5 blocks and is full of live music to entertain while you shop making this a favorite downtown Boise attraction.
8. Old Idaho Penitentiary
2445 Old Penitentiary Rd, Boise, ID 83712
The Old Idaho Penitentiary opened its doors in 1872 to some of the West's most desperate criminals. Today, you can experience over 100 years of Idaho's unique prison history with a visit to Solitary Confinement, cell blocks, and the Gallows.
The site features 30 historic buildings including the J. Curtis Earl Memorial Exhibit, a collection of historic weaponry.
9. Boise Art Museum
670 Julia Davis Dr, Boise, ID 83702
The Boise Art Museum or BAM as the locals call it, produces over 15 exciting new exhibitions each year. BAM inspires and engages people of all ages through a range or artistic styles including media, periods, and cultures.
With monthly education programs, studio art workshops, and children's ARTExperience Gallery there truly is something for everyone here.
10. Bogus Basin Mountain Recreation
Boise is well known for attracting those who love the outdoors and just a short drive up the foothills sits Bogus Basin. Perhaps best known as the local ski area Bogus Basin is also home to great summertime activities as well.
You'll find an abundance of trails for both hiking and biking as well as lift served mountain biking. Bogus Basin is also home to Idaho's only mountain roller coaster. This along with climbing walls, summer tubbing hill, and bungee trampoline make this an awesome spot anytime of the year.
11. Discovery center of idaho
131 W Myrtle St, Boise, ID 83702
With an emphasis on current technology and hands-on type exhibits the Discovery Center Of Idaho has made quite a name for itself. From world-class exhibitions, virtual and in-person programs with community experts, to hands-on exhibitions built right in their own Micron Innovation Lab.
Adults and children alike will enjoy the Discovery Center with their fun and refreshing approach to science and learning.
12. Idaho botanical garden
2355 N Old Penitentiary Rd, Boise, ID 83712
A great thing about living in the city of Boise is that you are never more than a stones throw away from the peace and quiet of nature. And there's no better example than the Idaho Botanical Garden.
This year round living museum sits on 14 acres featuring native and exotic plants from all over the world. The Garden is a tapestry of sunlight and shade, vegetables and flowers, greenery and shrubs, water features and art installations. It's a treat for the eyes and a soothing experience for the soul to visit.
It's a perfect place for a leisurely stroll or picnic.
13. JUMP (Jacks Urban Meeting Place)
1000 W Myrtle St, Boise, ID 83702
If you want a place that encourages creativity and innovation, then head on over to JUMP (Jack's Urban Meeting Place). This interactive creative center is one of those spots where people can have fun while being productive! There are learning studios for any occasion as well as event spaces available. They also have an outdoor amphitheater where spontaneous performances are encouraged along with outdoor movies and concerts under the beautiful Boise stars.
For the adventurous person looking for a fun thing and unique thing to do in Boise the JUMP also offers various experiences like the "climber" and the "spiral slide". The Climber is a three-story net structure climbing area, And the Spiral Slide is a totally tubular five-story chute designed to allow people to take risks and challenge themselves in a fun way.
14. Idaho State Capital Building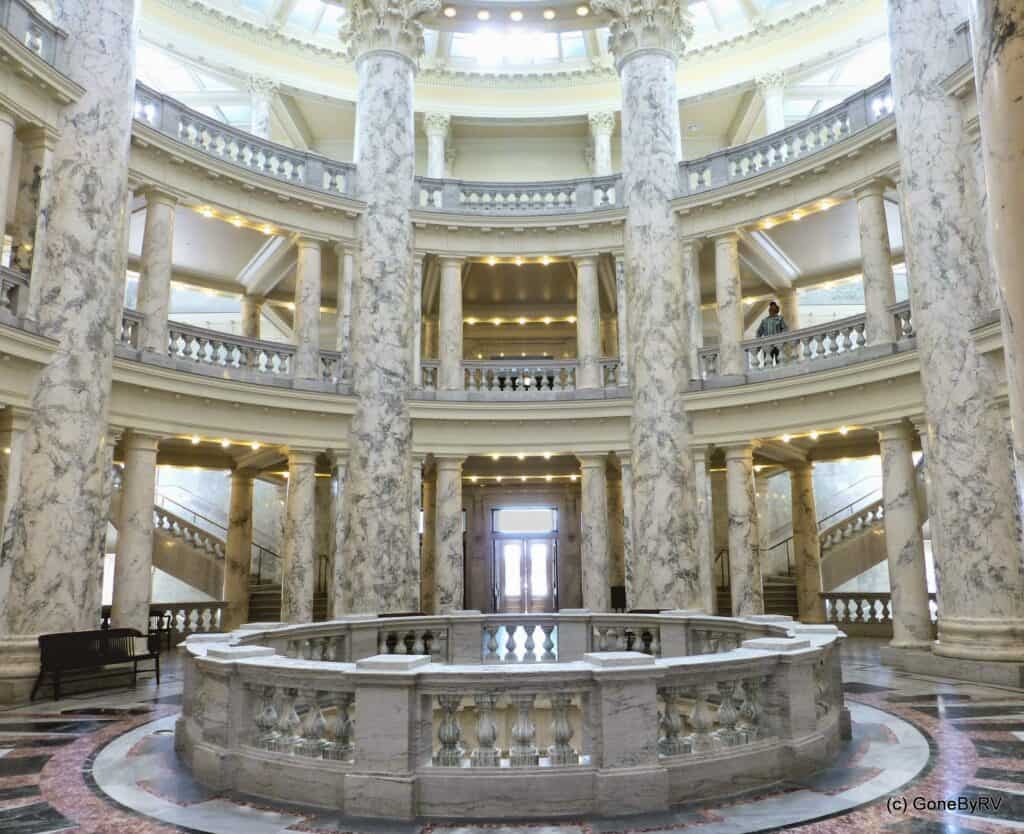 700 W Jefferson St, Boise, ID 83702
As we mentioned earlier, the city offers a lot to history lovers. The striking Idaho State Capitol building is one of the many highlights of Boise's history.
The capitol features a gift shop and rotating exhibit featuring different elements of Idaho's unique history. This of course, all within the most magnificent marble grand room and spiral stair case. It really is quite a site.
Download your Self Guided Idaho State Capitol Tour and be sure to take some time exploring the capitol building.
15. Aquarium of boise
No trip would be complete without a visit to the Aquarium of Boise. Their 10,000 square foot facility houses over 35,000 gallons of saltwater and over 250 different species of animals and marine life.
Our 10,000 square foot facility houses over 35,000 gallons of saltwater and over 250 different species of animals and marine life. Our collection includes animals that do not live in the ocean, but have come from local donations from the community. These animals include iguanas, freshwater turtles and fish, snakes and lizards. We do accept animals, but only within the guidelines and rules of the Idaho Department of Fish and Game.
What's your favorite downtown boise attraction?
There are so many fun places to see in Downtown Boise and it was no easy task to only pick 15 of them. But you definitely can't you go wrong starting with these.
We'd love to hear about your favorite things to do in Boise so drop a quick comment below.
You Might Enjoy These Other Idaho Attractions
What is Boise ID known for?
The City of Trees, Boise Idaho known for its outdoor attractions and rich history. Originally started by fur trappers the area quickly become a gold hotspot with mines popping up all over the state. Today Boise is known for its outdoor activities, delicious foods, and a growing list of art and cultural events. All of this has made Boise one of the fastest growing cities in the country.
What is it like to live in Boise?
The city of 230,000 people is one of the fastest-growing cities in the US attracting transplants from all over with its comparatively low cost of living. This couples with a growing tech scene and easy access to nature has made this one of the favorites places for millennials. Boise is a dry area with hot summers and sees occasional snow fall in the winter that quickly melts away.

How many people live in Boise
The largest city in Idaho is Boise, with a population of 229,993. Star is the fastest growing city in Idaho over the past 10 years, having grown 101.78% since 2010.