The wild rivers in the center of Idaho's mountain ranges run along with geothermal hotspots that create soothing hot springs. Whether you are in search of an enchanting adventure to Earth's natural hot tubs, or just want to make a pitstop, don't miss these "Ohhh so good" hot springs near boise.
Check out the top 10 hot springs near Boise Idaho and plan your next journey to a healing and picturesque experience.
Frenchman's Bend Spring
3 hours from Boise – Directions
Located along Warm Creek Springs, Frenchman's Bend Spring is free to the public. If you are near the Sawtooth National Forest in Ketchum Idaho, the springs are worth a detour. Their natural rock walls line multiple hot spring pools filled with mystical warmth.
Although not the most private setting, this popular spring is accessible by car. The area has a small parking lot for visitors that is a short walk from the spring. If you yearn to have some solitude, the best time to go is early in the morning while everyone else is still skiing. 
Are you familiar with Groupon? If not you are missing out. Groupon is FREE to use and offers discounts to restaurants plus a bunch of other Boise businesses. Here are the latest deals for Boise – CLICK HERE
Boat Box Hot Spring
3.5 hours from Boise – Directions
Boat Box spring is the smallest spring on this list but is still worth a soak! The spring consists of just one metal tub, but it contains steaming hot water that will relax your muscles and soothe your soul.
The metal tub sits right on the river, giving you an unbelievable view of the nature around you. Just try to keep your group to a maximum of three or it may feel cramped.
Gold Fork Hot Springs
2.5 hours from Boise – 1026 Gold Fork Rd, Donnelly, ID 83615
This is one of the fanciest hot springs near Boise. With its beautifully constructed pools, varying controlled temperatures, and convenient amenities, this is an ideal spot for a family trip.
Gold Fork Hot Springs offer less of the natural adventure that some seek in a hot spring but offer conveniences such as changing rooms, snacks to buy, and towels to rent. If you aren't in the mood for a hike but still want to surround yourself with warmth and beauty, Gold Fork is a lovely option. Cost $10 per person
The Ultimate Guide To Idaho Hot Springs
All 45 Idaho Hot Springs Maps and Guides
Springs at Idaho City
1 hour from Boise – 3742 ID-21, Idaho City, ID 83631
Another less-natural option, the Springs at Idaho City consist of a giant geothermal pool that can fit many guests, plus a piping hot tub for those that want to kick it up a notch. The Springs at Idaho City are just a short drive from Boise and are a great trip for the whole family.
The resort, right beside the natural spring, has a fireplace, changing rooms, and even a cafe! The cost for this Oasis is around $20 and they strongly recommend you make reservations to ensure a spot in the pool.
Rocky Canyon Springs
1.5 hours from Boise – Directions
You might also enjoy:
11 Incredible Day Trips From Boise, Idaho
Located about 90 miles outside Boise, the Rocky Canyon Springs area is along the Middle Fork Payette River. There is an unmarked parking lot on the side of the Middlefork highway where you can park and walk to the spring. To reach the spring, you must cross the river, which can be rather chilly during winter months.
Once across the river, the spring has a plethora of small pools with varying water temperatures. But the real treat when you go to this spring is the insanely scenic views from the tubs. It's like you hopped into a perfect postcard.
Trail Creek Springs
2.5 hours from Boise – Directions
In Southwest Idaho near Lake Cascade sits the Trail Creek Springs. It is a wonderful stop throughout the year. Even in the winter, these springs offer warm pools large enough for medium-sized groups.
After a long drive up and then down warm springs road, you will reach the parking area. A quick scramble down a steep hillside will land you in the scenic hot springs. PVC piping along the pools helps control the temperatures making it a great stop anytime of the year.
Checkout Our Ultimate Idaho Hot Springs Map and Guide
Kirkham Hot Springs
1.5 hours from Boise – Directions
Possibly the most popular hot spring in the state, the Kirkham Hot springs boasts tons of small and medium-sized pools, so you don't need to feel squished next to strangers or have to wait for your turn. Even if the main pools are packed, there are some half-hidden little pools along the back of the campsite.
Kirkham springs are super easy to access and are one of the best places to camp in Idaho. Like many springs, if you go early in the morning, you stand a better chance of claiming the perfect pool for your soak.
Goldbug Hot Springs
4.5 hours from Boise – Trailhead
One of the most mesmerizing hot springs in all of Idaho, the Goldbug springs offer an astounding, panoramic view of the Salmon-Challis National Forest. The cost of this hot spring experience is a steep, 2-mile hike up the mountain. There are stairs, but they are not for the faint of heart. More details and trail map HERE.
Autumn is the ideal time to enjoy these warm pools that trickle down the mountainside. The summers can be extremely hot at the springs. But whenever you go, the excess of steam creates a mysterious and relaxing ambiance.
Sunbeam Hot Springs
3 hours from Boise – Directions
One of the most popular and easily accessible springs in Idaho is the Sunbeam Spring. It is nestled in the Salmon-Challis National Forest, just off the highway. The pools are located along the Salmon River and are always super warm.
Although popular, this spring typically isn't packed on weekdays. However, weekends can get busy, so plan accordingly!
Stanley Hot Springs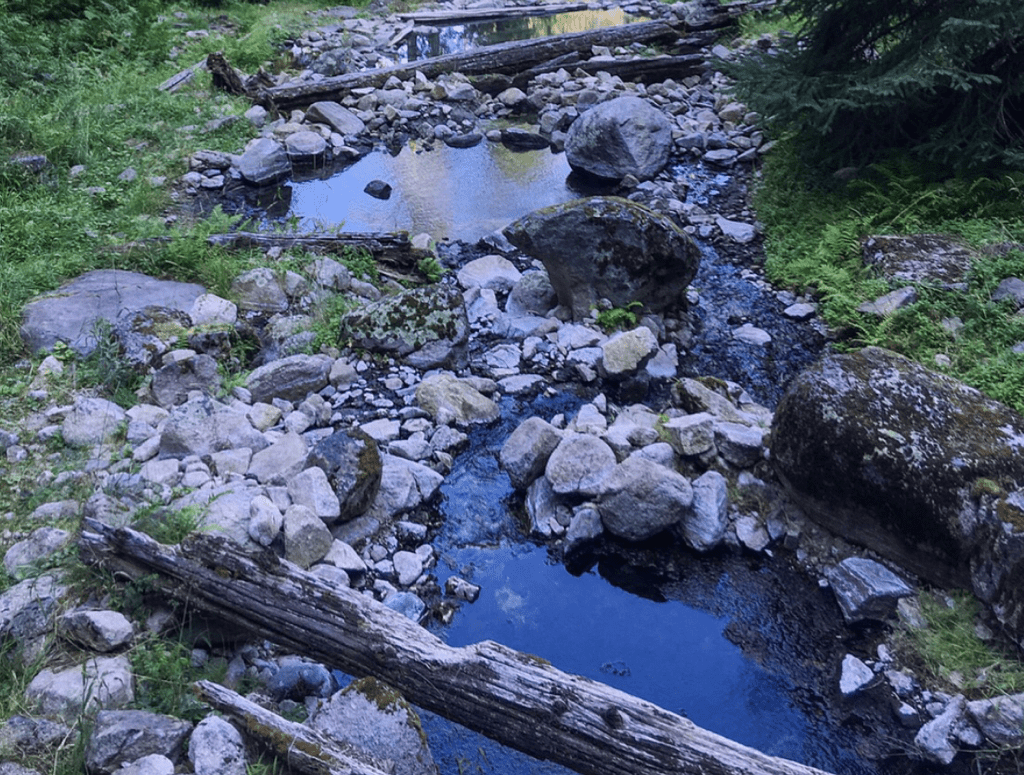 5.5 hours from Boise – Directions
The Stanley Hot Springs sit in the serene Nez Perce-Clearwater National Forest. To reach the hot spring, you'll have to complete a 5-mile gradual uphill hike and one river crossing to enjoy the radiance of the springs.
At the end of this trail, the Stanley Hot Springs offers two massive natural rock pools for guests to soak in. Because of the long trek required to reach the springs, they are often not crowded and therefore an excellent spot for a peaceful soak.
The best way to take in these remote springs is an overnight backpack as there are plenty of camp spots near the springs.
Oh, and this is nowhere near Stanley Idaho just to be clear.
Click below for detailed trail map and more details on the hike
Final Thoughts
Idaho has a variety of hot springs near Boise to offer up a taste of the mother earth warmth. Some are small, while some have enough space for all! Whichever you decide to visit, the relaxing aura of a hot spring combined with the heavenly views of nature makes an excursion well worth the trip.
You might also enjoy:
15 Hikes Near Boise – Beginner To Advanced
11 Funky And Cool Places To Stay In Idaho
15 Best Places To Visit In Idaho