While Boise may be considered one of the best cities for adults with its craft brewery and outdoor recreation scene, it's also one of the best places for kids.
With a variety of kid focused activities including interactive museums, water parks, and zoos there's plenty for the entire family to enjoy.
Let's have a look at some of the great things to do with kids in Boise.
1. Planet Kid Indoor Soft Playground
If we are talking about toddlers, Planet Kid should be first on your list. Thankfully, it is completely safe and designed for children up to 12 years of age.
More importantly, the Indoor Soft Playground offers a range of activities. From climbing equipment to ball pits, it has everything.
In addition, there is a Toddler Town created for children up to 2 years old. It is an excellent spot for the younger ones in the family. If you or the kids work up a thirst or appetite not worry because they also have a cafeteria.
Are you familiar with Groupon? If not you are missing out. Groupon is FREE to use and offers discounts to restaurants plus a bunch of other Boise businesses. Here are the latest deals for Boise – CLICK HERE
2. Aquarium of Boise
While visiting Boise, you can't miss the Aquarium of Boise. The 10,000 square foot facility is home to over 250 different kinds of sea creatures.
To make it more interesting, you can plan your visit during feeding times or take a special behind the scene tour. Be sure to book in advance because they do fill up. Learn more HERE.
3. Zoo Boise
With over 300 animals the Boise Zoo is a favorite amongst kids and you'll be pleasantly surprised by the variety of animals they have. A recent partnership with the Mozambique National Park as added to their already impressive collection. African wild dogs, baboons, hyenas, crocodiles, and snow leopards to name just a few.
The best part is, the zoo donates a part of its income to protect wildlife in the Boise area so you can feel good knowing you're investing in your children's future.
4. Children's Museum of Idaho
The Children's Museum of Idaho is a great place for children up to 8 years of age. If you want your kids to have fun while learning valuable lessons, this is the best place in Boise.
From space exploration to dinosaur camps there's plenty to keep the little ones engaged. Be sure to check out their calendar to take advantage of their special events.
5. Idaho Museum of Mining Geology
The Idaho Museum of Mining Geology will take you deep beneath the earths surface to explore the rich history of mining in Idaho. You'll learn about all the metals and minerals that are found around Idaho including Gold.
Kids will able to touch ancient fossils and gemstones giving them a hands-on experience. Best of all, admission is free.
Don't forget to have a look at Groupon! They have some great discounts on Boise activities and restaurants. There's no reason to pay full price!
6. Discovery Center of Idaho
Another excellent opportunity for curious kids is the Discovery Center of Idaho! The discovery center is home to exhibits like the Ancient Egyptian tombs and virtual reality but also has rotating events like Tinker The T-Rex.
There is no shortage of fun things to do for the whole family. This interactive experience is guaranteed to be a crowd pleaser.
7. Treasure Valley Skate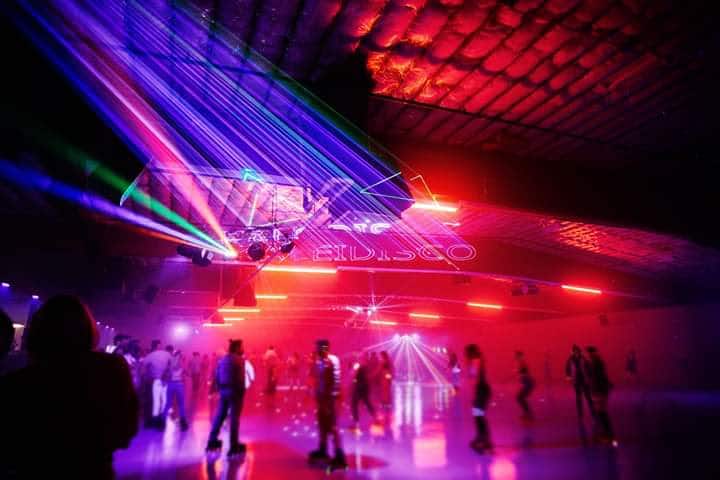 Kids will love getting a little exercise while taking a step back and experiencing a classic roller rink. Treasure Valley Skate will tucker your kids out in no time. You're welcome 🙂
8. Pojos Family Fun Center
Introduced in 1974, Pojos is a favorite spot for kids in Boise. You can enjoy classic arcade games and even an indoor ferris wheel. From merry-go-round to bumper cars it's the perfect indoor experience for kids of all ages.
And when the hunger strikes they also have a great cafeteria.
9. JUMP(Jack's Urban Meeting Place) Boise
Jump Boise was established to provide meaningful activities for all age groups. Yes that goes for us adults as well.
From cultural events to dance parties and even a massive 5-story slide this place rocks!
10. MK Nature Center
The Morrison Knudsen Nature Center is an excellent learning hub for kids spread over 4.6 acres of land. The MK Nature Center is located along the Boise River Greenbelt which also made our list of fun things to do with kids in Boise.
If you want to witness the local wildlife of Boise, this is the place for you. As you enter the facility, you will see native trees, fish, birds, and plants.
The underwater viewing windows and streamwalk loop are amongst the favorites for kids.
11. Boise River Greenbelt
Meandering through the heart of Boise is a true gem, the Boise River Greenbelt. This 25 mile long path that can be walked, biked, or jogged and is one of the many things that makes Boise so special.
All along the trail are numerous parks and neighborhoods where you can stop for a bite to eat. This nature oasis centered right in downtown Boise should not be missed.
12. Idaho Botanical Garden
Don't be fooled into thinking this is just your everyday garden because it is so much more. The Idaho Botanical Gardens are an immersive experience from Fire Wise plants to meditation.
You'll have a whole new appreciation for the important role that native plants play in the treasure valley. If the kiddos aren't quite digging the garden there's an entire kid area and playground that they will be sure to enjoy.
13. Wahooz Roaring Springs Water Park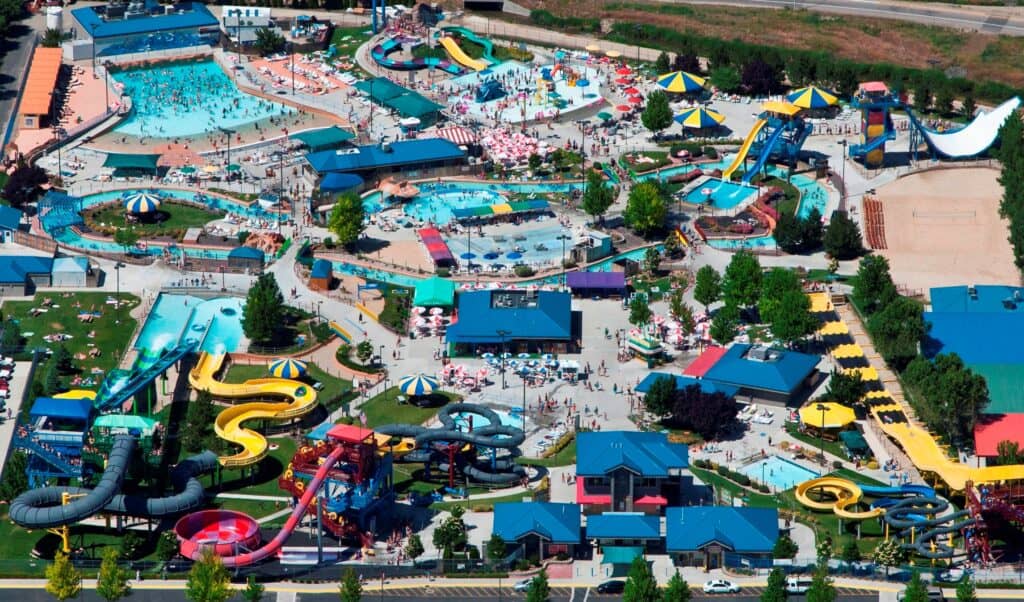 Roaring Springs water park is nothing short of amazing. This place is massive and has water features for the entire family. Smaller kids will love Bearfoot Bay which features a shallow wading pool, six small slides and a shady spot for parents to hang out.
The older kids can get their thrill on with the massive water slides and river run. If you've had enough water there's always the go-carts, mini golf, and arcade game space.
14. Altitude Trampoline Park
The Altitude Trampoline Park is a 30,000 square foot kids dream playground. There are numerous features at the indoor park but the foam pit and massive trampolines are the favorites.
15. Camel's Back Park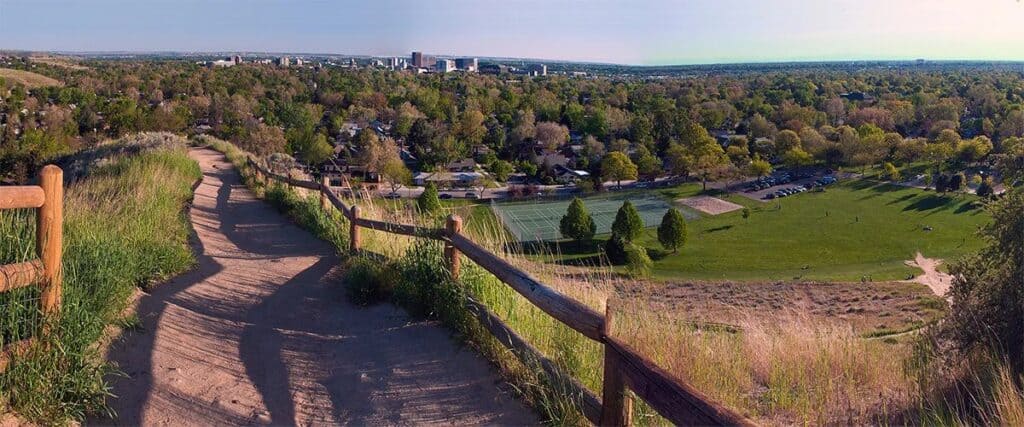 Camel's Back Park on the North end features a large outdoor playground and plenty of green open space. In addition, there is a short but steep hike up the hill that has one of the best views of Boise.
The area is filled with hiking trails and is the perfect place to introduce kids to the active lifestyle that Boise is so famous for.
16. Woodland Kids(Closed)
Update: 2023 Woodland Kids has closed. Not known if they will reopen.
The nature inspired Woodland Kids indoor playground is perfect for those rainy days. The rubber floored play room is great for burning off some energy or try one of the many themed play areas like the play kitchen, farmers market, or woodshop.
They even have a picnic area with food if anyone gets hungry.
17. Warhawk Air Museum
If your little one likes airplanes then the Warhawk Air Museum is a must. The museum features many WWII-era planes including the "Boise Bee" North American P-51C Mustang.
Boise Is A Great Place For Kids
Boise is such a great place for kids and it's no wonder why it's one of the fastest growing cities in the country. The family friendly vibe in Boise really makes this place special. From abundant outdoor activities to hands-on science there's no problem stimulating those thirsty little minds.
Tell us, what's your favorite place for kids in Boise?
You might also enjoy:
11 FUN Things To Do In Coeur d'Alene With Kids
11 Incredible Day Trips From Boise, Idaho