Our Complete Guide To Idaho State Hot Springs Map
The Idaho Hot Springs map is interactive and clickable so you can move the map around and click on the links for additional info. The list of Idaho hot springs below are roughly in order from North to South and where available I have included links for additional information about the hot springs including hiking guides with maps. Enjoy!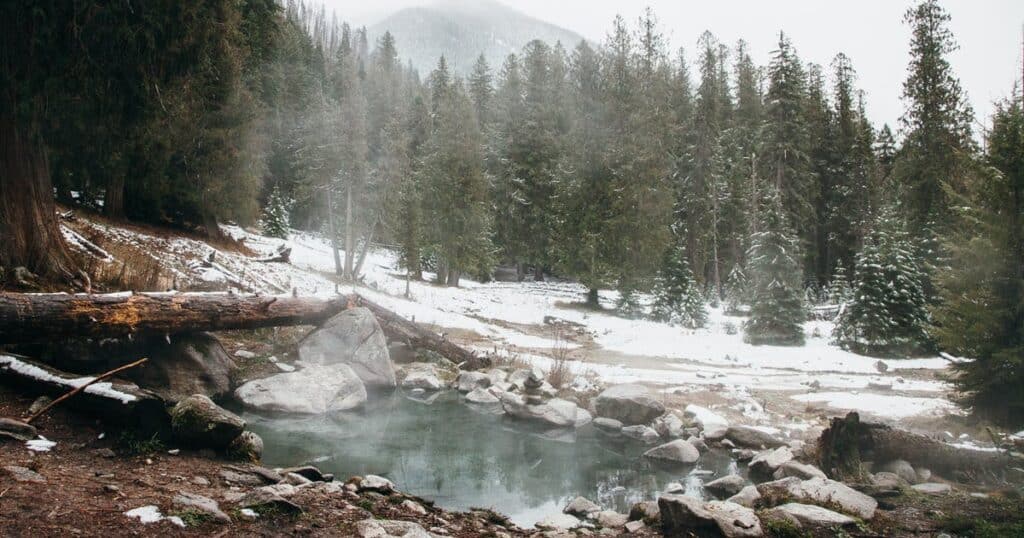 Jerry Johnson Hot Springs are one of Idaho's most popular natural hot springs and features three hot spring sources with a variety soaking opportunities. Some pools feature steaming hot waterfalls along the rock wall, while others have sandy clear bottoms. The waterfall pools, which are the first of three pools, are submerged until late summer (end of August), while the other two sources offer year-round soaking options.
For more details on the hot springs hike including a map, head to Jerry Johnson Hot Springs.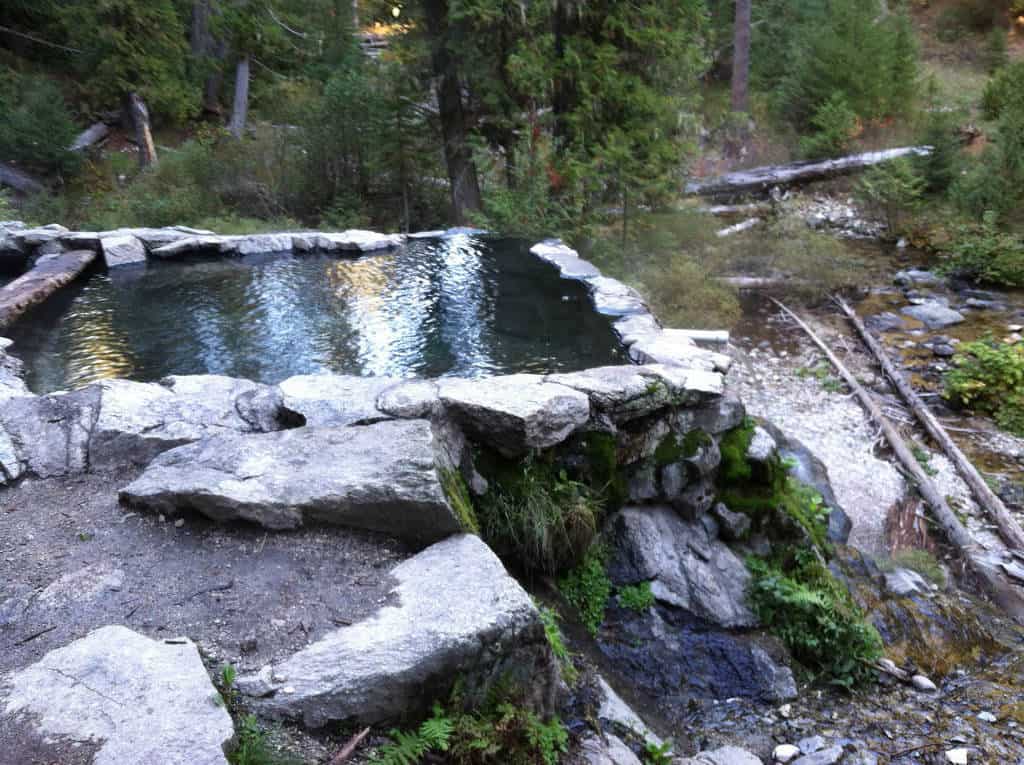 The Weir Creek Hot Springs are located in the beautiful Clearwater National Forest along one of Idaho's most scenic byways. The hot springs feature primitive rock walled and gravel bottomed pools and are accessed via a chill 0.7 mile trail.
Keep in mind during the winter the trail will be snow covered.
The large pool can easily accommodate up to 10 people making it ideal for larger groups.
For more hot spring and trail information including a map, head to Weir Creek Hot Springs Idaho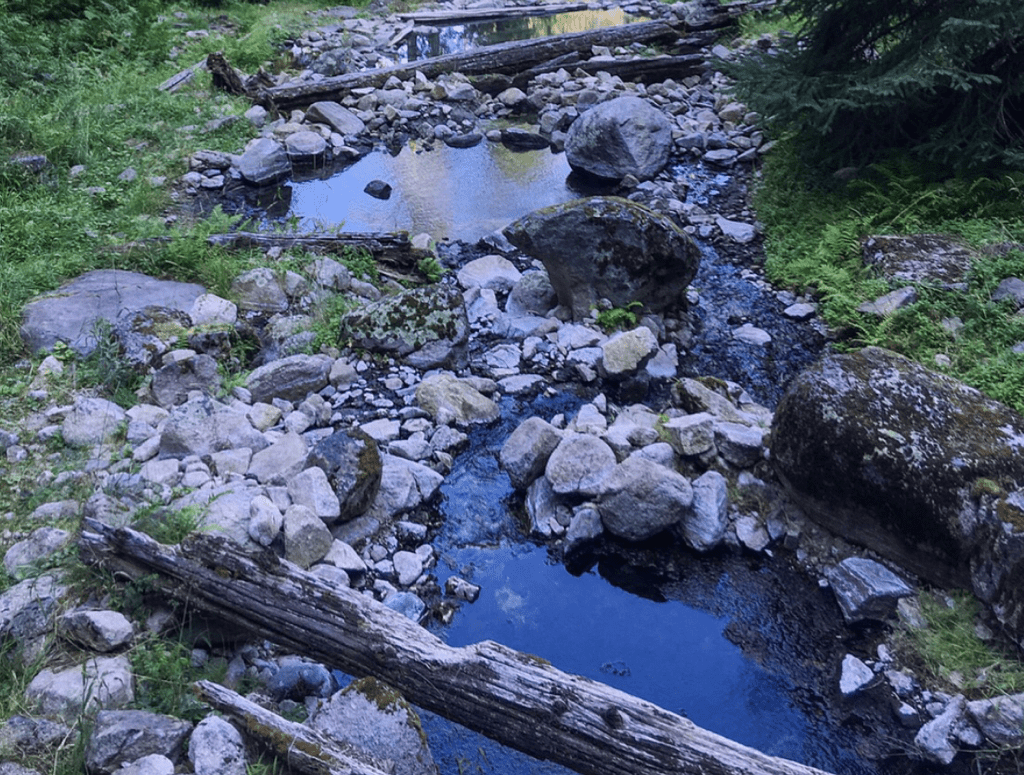 These remote hot springs, perhaps best done as an overnight backpack, are nothing short of amazing. After a 5 mile hike and a river crossing you'll be rewarded with splendid views and a delicious hot soak.
An overnight stay makes these hot springs even better. There's great camping nearby and a soak under the stars is a magical experience.
Red River Hot Springs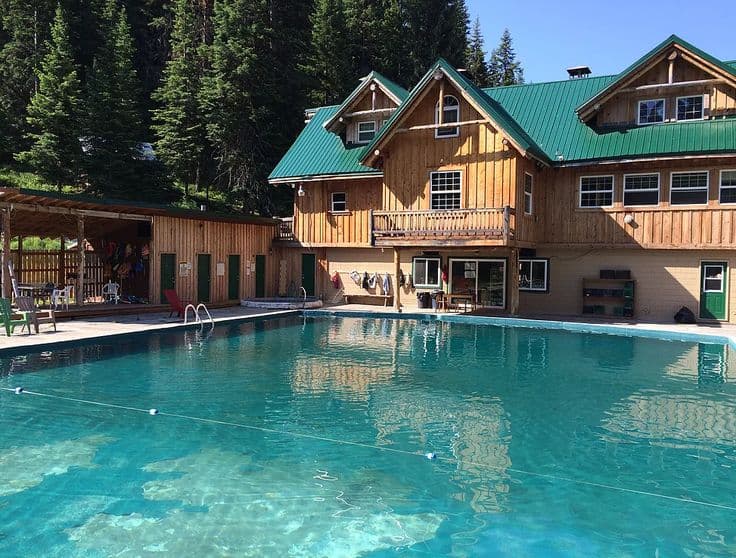 Located along the west end of the Magruder Corridor, Red River Hot Springs sit deep in Idaho alongside two of the largest wilderness areas in the lower 48, about 3.5 million acres to be exact.
You can drive directly to the springs and there's even a small lodge that offers meals along with rooms and cabins for rent. In addition, camping and RV parking are available.
The springs have an outdoor geothermal swimming pool and outdoor hot spring tub. Perfect after a long day exploring the endless outdoor activities the area offers.
The Red River Hot Springs are located about 75 miles from Grangeville Idaho and are a perfect stopping point along the Idaho Scenic Byways.
Horse Creek Hot Springs
After taking a step into this unassuming shack you're rewarded with the crystal clear waters of the Horse Creek Hot Springs.
These unique hot springs tucked in along the Frank Church River of No Return Wilderness are one of our favorites.
There's a simple forest service campground nearby and even a pit toilet. The area offers endless outdoor activities including some great fishing in Woods Creek.
The hot springs sit at just over 6,200 feet so access by vehicle is possible during summer months only.
Panther Hot Springs
Panther Creek Hot Springs, formerly known as Big Creek Hot Springs, sits outside of Salmon Idaho. Although you can drive nearly all the way to the springs it's still a very remote hot spring.
The hot springs emerge from a travertine slope that cascades down into Hot Springs Creek. From here you will find several pools of varying temperature to get your soak on. As always just shift the rocks about to let in more or less hot water as desired. These hot springs come out of the ground VERY hot and can definitely burn so be careful!
At the top of the hill you'll find a stone shack pieced together with wood and rock. The shack sits above a steaming hole in the rock making for a perfect steam sauna.
Directions
From Salmon, Idaho head north on Highway 93 for 21 miles to North Fork. Then head west on Salmon River Road for 26 miles. Just before Duncan's Outpost turn left onto Panther Creek Road. Drive 4 miles and then take a left on Forest Service road 60.
After about 4 miles you'll see a pullout and an arrow sign, park here. Head south toward the creek through a campsite and after about 1/4 mile you'll see the springs.
Burgdorf Hot Springs(Our Favorite Natural Springs Near McCall Idaho)
Located just 30 miles from McCall sits the rustic Burgdorf Hot Springs. What makes this place special are the numerous outbuildings and historic cabins that can be rented.
The hot springs consist of two small and VERY hot pools that feed a large main pool making this a great place for larger groups. The main office serves an assortment of snack and Pizza from McCall's very own Crusty's Pizza.
To make this visit even more memorable be sure to rent one of the many rustic cabins for the night. Each cabin is unique with its own history. The cabins are VERY simple, think camping, as they don't have electricity or running water. The cabins are heated with wood stoves and have an outhouse for taking care of business.
The Burgdorf Hot Springs are open year round but during the winter you'll have to get there by snowmobile. You can rent snowmobiles at Cheap Thrills in McCall.
When renting a cabin you have access to the hot springs 24 hours a day. For day visits you will need to make a reservation HERE as walk-ins are not allowed
Zims Hot Springs are located just outside of McCall in New Meadows. These family friendly springs feel more like a community pool and are a great place for the kids to splash around. There's also a separate hotter pool that's popular with the adults.
In addition to the hot springs they also have a small arcade and a variety of drinks and snacks available for purchase. For an overnight stay they have a campground and RV parking with hookups.
The springs can be easily accessed year-round and cost $10 for adults and $6 for children. They are currently closed Monday-Tuesday so check their site for current hours.
Starkey Hot Springs
Easily accessible along HWY 95 north of Council, Idaho are the Starkey Hot Springs. These springs consist of a simple man made pool set amongst the timbers and rolling hills.
They don't have a website but they do regularly update their FB page with hours and prices. You can find their Facebook page HERE.
They don't offer any onsite camping but there are plenty of campsites nearby.
The Mundo Hot Springs are a very clean and well kept option near Cambridge, Idaho. The springs feature a large pool and small hot tub pool which cascades into the main pool.
The resort offers everything you might need including dining, accommodations, and camping. The Weiser River Trail is just 1/2 mile away making this an ideal stop for those trekking or biking the trail.
Gold Fork Hot Springs
Soak in your choice of 6 different mineral spring pools. This massive place has plenty of room for everyone. Start with the hotter upper pool and then work your way down the cascade of pools all featuring relaxing views of the surrounding country.
There are restrooms and changing rooms on site and plenty of lounge chairs to get your relaxing on. The road in can see a lot of snow in the winter so come prepared and take your time. Admission is $10 per person, $5 for children under 9.
Vulcan Hot Springs
At over 30 feet across Vulcan Hot Springs is without a doubt Idaho's largest natural hot spring. What's more is the massive amount of 190 degree water that is pumped from the earth here.
So much so that the US Department of Energy has been contemplating a geothermal electrical plant here. Let's hope that doesn't happen.
To get to the hot springs you'll need to take a short hike of around 2.5 miles round trip. You can find additional details including a hiking map HERE.
Trail Creek Hot Springs(Free Hot Springs Idaho)
A local's favorite for Cascade, McCall, and Garden Valley, Trail Creek Hot Springs is a quick 2 hour drive from Boise. Situated in the Payette National Forest near Warm Lake, the area offers endless activities from winter snowmobiling and backcountry skiing to summer hiking and fishing.
These natural hot springs are accessible year-round and are plenty hot even during the coldest winter months. The hot springs feature several different pools rimmed with boulders and some even have wooden planks to help you enter the pools.
Getting to the hot springs is relatively straight forward but keep in mind the road, while maintained, holds a lot of snow in the winter. The Google directions will get you to a pull-off along the right side of the road(coming from Cascade). From here it's just a quick scramble down the hillside to the hot springs.
Plan on about a 40 minute drive from Cascade, Idaho or about 1 hour from McCall. The nearby Warm Lake Lodge offers year-round cabin rentals that are an absolute blast.
Goldbug Hot Springs(Our Favorite Hot Spring in Idaho State)
This backcountry hot spring experience is a favorite of ours. The 2 mile(4 mile round trip) hike which is well traveled and signed has about 1,300 feet of elevation change so expect a good workout getting to this hot spring. Once you get there and dip into the steamy goodness you're achy muscles will thank you. So will you eyes as the view is stunning.
On the hike in are several camping sites should you opt for the ultimate backcountry hot spring experience. Check out the hiking map HERE.
Challis Hot Springs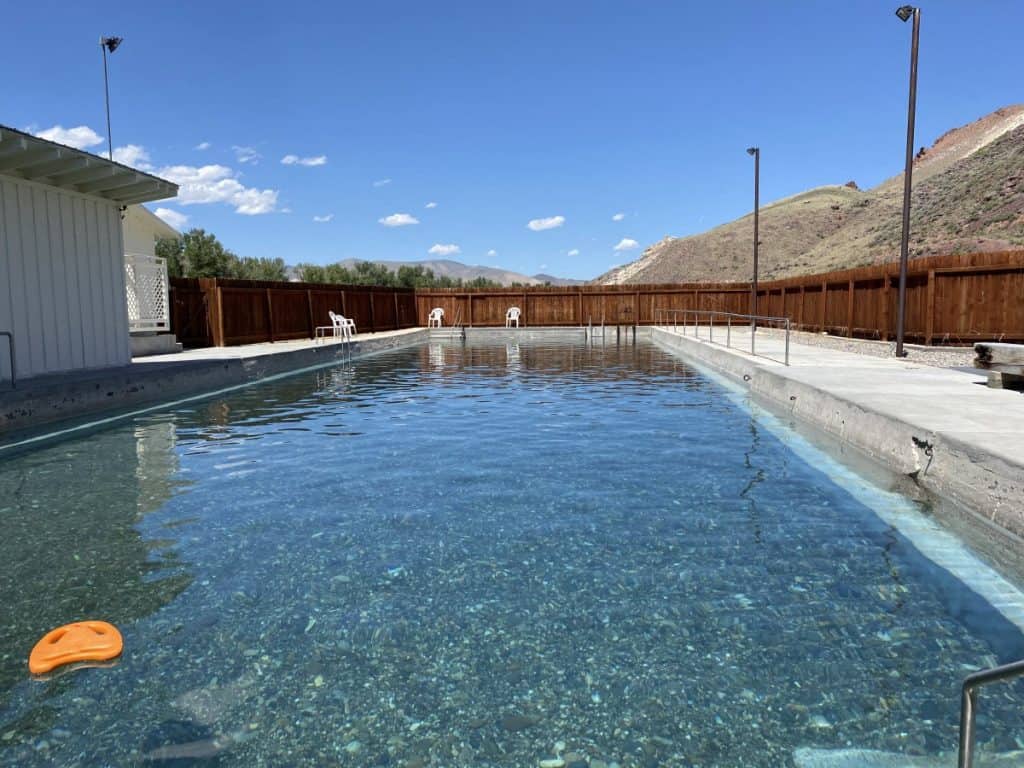 The family-owned Challis Hot Springs are situated along the magnificent Salmon River River valley of central Idaho. In addition to the hot springs, the resort offers camping, RV sites with hook-ups, and even a Bed and Breakfast.
The hot mineral springs consist of several small man-made pools that feed into a large main pool. The hot springs have restrooms, changing rooms, and snacks are available in the main office.
The natural rock bottom and clear water make these man-made hot springs feel natural. In addition, the variety of pools offer the perfect temperature for everyone.
Located in Challis, Idaho access to these pools is easy with ample parking right at the hot springs.
While you're in the area don't miss these epic Idaho scenic drives,
Majestic Idaho Scenic Byways For Your Next Road Trip
Rocky Canyon Hot Springs
Rocky Canyon Hot Springs are located along the Middle Fork Payette River in the Boise National Forest. While they are located right off the highway, access is tricky as you must cross the river to get to the springs. The river crossing is not bare foot friendly as the rocks are rather sharp and slippery so bring some shoes or sandals for the crossing.
Once you make your way across the Payette river you'll be rewarded with a cascading series of primitive rock-lined pools. Temperatures are warmest at the uppermost pool and gradually decrease as you work your way down to lower pools.
Sunbeam Hot Springs
Idaho's Highway 75 follows the Salmon River through the beautiful region of the Salmon-Challis National Forest. Sunbeam Hot Springs, one of the most popular thermal springs located along this route, is a good place to unwind after a long day on the road.
The pools are located along the bank of the Salmon River below the highway, where a thermal spring cascades down from the hillside above. A row of boulders hides the pools from view from Highway 75, but steam rising from the river is easy to spot. This is a popular stop for bathers on trips along the Salmon River and Sawtooth Mountains. It's an excellent place to unwind after a hard day's adventure in the area.
There's a covered changing area and a paved path leading down to the rocky shore.
Cove Creek Hot Springs
Located along the iconic highway 75 just outside of Stanley Idaho sits another natural wonder, Cove Creek Hot Springs. Although a close neighbor to the Sunbeam Hot Springs these tend to be less busy due to the very short hike needed to access the springs.
The springs feature plenty of parking and even an outhouse. From the parking area you'll take an easy 2 minute walk down to the shore along a gentle grassy slope. The short hike is nice as it separates you from the noise of highway 75.
Once at the springs you'll find several rock circles where you can simply move rocks around to let in more or less cool water for the perfect temperature. Keep an eye out across the river for deer, elk, and bear as they frequent the area catching a quick drink from the Salmon River.
Boat Box Road Side Hot Springs
Boat Box Hot Springs located outside of Stanley Idaho offers up one of the most unique hot spring experiences you'll ever have. A local's favorite for taking the edge off after a hard days hike or a day on the river.
Boat Box Hot Springs got it's name from the old "wooden box" that once stood here. Swept away by high water the wooden box has since been replaced by a metal cauldron. The small 3-person lobster pot sits proudly along the shore of the Salmon River where you can take in some of Idaho's finest views.
The cauldron is located just below the highway along an unmarked pull-off that will fit a few cars. The only clue you're in the right place will likely be the steam rising from the rivers edge.
Boat Box Hot Springs is small so don't try to squeeze in if there's already a group in there. Best to just wait your turn for your own soaking experience.
Mountain Village Resort
Located in the heart of Stanley Idaho, Mountain Village Resort offers a private soaking experience with a ridiculous view. It sits within a small log building that is situated on the banks of Valley Creek, a short walk from the Lodge.
Inside the log building you'll find a changing room as well as couple benches to sit on. These covered hot springs are a perfect way to escape bad weather while still taking in the views through the massive barn door.
The hot springs can fit up to 8 people but do require a reservation. Be sure to reserve your soaking time early as they can fill up. Call the front desk at 1-800-843-5475 to make a reservation.
Sacajawea Hot Springs
Sacajawea Hot Springs sit North of Lowman, near the Sawtooth Lodge and Grandjean trailhead in the Sawtooth National Recreation Area. These natural springs are tucked in along the shore of the South Fork of the Payette River.
These simple natural hot springs are made up of rock circles built by fellow soakers to blend the mineral hot waters with cold waters of the Payette River.
The mineral springs are just a short scramble down from the highway where you'll find a small pull-off with no amenities.
Bonneville Hot Springs
Located near the small town of Lowman, Idaho about 2 hours from Boise lies Bonneville Hot Springs. These natural springs feature several different soaking areas as well as a wooden shack with an old bathtub that can be filled with hot mineral spring water.
To get to the hot springs you'll start at the Bonneville campground just off highway 21. The campground is open May to September and has a $5 day use parking fee. If the campground is closed and there is too much snow, park by the Warm Springs Trailhead just before the turnoff to Bonneville.
Depending on recent snow you may need snowshoes or skis to get in during winter months if the trail hasn't been used in a while. The spring are about a 0.25 mile hike from the Bonneville campground.
Haven Hot Springs
Ease into the healing mineral water for private soaks morning, day & night at Haven Hot Springs. Established in 1951 this large man-made pool features different areas within the pool for a variety of temperatures. To soak in these majestic springs you'll need a reservation which costs $10 per hour but you'll have the entire pool to yourself.
You'll also find camping/RV parking and even hotel rooms on site should you want to stay the night. Spending the night includes entry to the springs after 10pm.
The full-service resort also offers breakfast, lunch, and dinner at the restaurant which I must say was rather tasty.
Pet friendly rooms are available for $150, full-hookup RV spots for $45, and camping spots from $15-25.
Kirkham Hot Springs(Our Favorite Closest Hot Springs To Boise Idaho)
Kirkham is one of the most well-known Idaho hot springs. Largely because it sits along the Ponderosa Pine Scenic Byway connecting Lowman and Stanley Idaho. No road trip in Idaho would be complete without driving this epic stretch of highway.
The multi-tiered hot springs rest along the banks of the Payette River. The crystal clear pools and steaming hillsides of cascading hot water are just a couple features you can look forward to here.
The hot springs are located next to the campground and there is a $5 day parking fee.
Pine Flat Hot Springs
This is one of our favorite hot springs thanks to it's steep terraced cascade of hot goodness. There are 6 or so pools which are all relatively small and just right for 2-3 people. Even if it's busy you won't feel crowded as each group can have their own pool.
The pools up top are the hottest and gradually cool as they make their way down to the river. There are a couple river bottom pools which can be mixed with river water for those hotter summer days.
To get to the hot springs you'll start at the Pine Flat Campground which has 26 sites and the usual amenities for a paid campground. There are signs for the hot springs which will take you down a quarter mile long trail to the rivers edge. The trail is steep and loose so you'll want to wear shoes.
From here you'll have your choice of several natural rock lined pools of varying temperature.
Hot Springs Campground
This popular hot spring is located right off the highway and is accessed by a short gravel trail down from a large pull-off along highway 17. There are a few different pools and even one that is shaded by trees which we like for those hot summer days.
Across the highway is a paid campground with the usual amenities including vault toilets.
Because of the short walk in this hot spring does get a bit busy but it also makes for any easy and quick soak when you're just cruising through.
Idaho Rocky Mountain Ranch
We're taking it up a notch here with this luxury full-service resort. Idaho Rocky Mountain Ranch offers an incredible geothermal pool but they don't stop there. This massive ranch is nothing short of stunning. From the rustic yet decedent cabins to top-notch cuisine there's no better place to enjoy a relaxing get away.
Open from June to September, to enjoy a soak here you'll need to book a room. And you'd better start saving now because a room here for you and your significant other will run about $600. But it's sooo worth it…
Chattanooga Hot Spring
Just outside the historic almost ghost town of Atlanta, Idaho you can sooth your aching muscles in the Chattanooga Hot Springs. These simple yet gorgeous hot springs feature a single pool with a cascading hillside cliff of geothermal goodness.
There's a lot of private property towards the end of the road as well as no parking signs so it's best to park further up the road and just walk the last bit.
Getting to the hot springs can be a bit rough. It starts with the poorly maintained dirt road and then you'll have a rather steep hillside scramble to get down to the Boise river. During the spring runoff the pool does get submerged.
While you're at it, here are some more spooky Idaho Ghost Towns,
11 Idaho Ghost Towns You'll Never Forget
Pincock Hot Springs(Green Canyon Hot Springs)
The Green Canyon Hot Springs, formerly known as Pincock Hot Springs, feature a large man-made covered geothermal swimming pool. These springs have a traditional "swimming pool" vibe and even offers swimming lessons.
In addition they offer camping, RV spots with full-hookups, and a simple restaurant and snack bar. Fees run about $7 for the pool and camping spots start at around $20.
Heise Hot Springs
Heise Hot Springs has something for everyone. Not only can you enjoy the warmth of the springs but Heise resort offers a 9 hole golf course, a Zipline, camping/RV spots, cabins, plus a family run Pizza restaurant.
The hot spring offerings include a nice and toasty 102-104 degree HOT pool that feeds into a larger lap pool that's kept at around 96 degrees. During the summer months they open another massive swimming pool complete with a two story water slide.
This place is massive and has something for everyone to enjoy!
Easley Hot Springs
Located just 12 miles north of Ketchum, Easley Hot Springs delivers a mineral rich hot soak with outstanding views of the mountains.
You'll find a full-size swimming pool plus two smaller hot soaking tubs. There's a large deck with plenty of tables and seating all with one of the finest views in the valley. Inside you'll find a small store with snacks and refreshments to keep you fueled and hydrated.
Warfield Hot Spring AKA Frenchman's Hot Springs
Just 11 miles west of Ketchum you'll find the Warfield Hot Springs also known as Frenchman's Hot Springs. Sitting behind Bald mountain and the Sun Valley ski resort these easily accessible hot springs are perfect for a quick apres ski soak.
Located right off Warm Springs road you'll find several distinct rock ring pools offering plenty of warmth for a little R & R. There's an obvious parking area and you can't miss the pools with their steaming billowing up from the creek. You'll find additional pools across the creek, one of which gets VERY hot so be careful.
Don't expect to have this place to yourself as it is very popular. Instead, approach it with the hopes of meeting someone new.
Baumgartner Hot Springs
The Baumgartner Hot Springs feature a 15 x 20 foot man made pool that's managed by the Forest Service. The hot springs reside within the Baumgartner Campground and as a result can get busy during summer peak times. Best to check these out during midweek or get your soak in early before the campers finish their biscuits and gravy.
Baumgartner Campground is situated alongside the South Fork Boise River, 11 miles from Featherville, Idaho. The area offers excellent fishing, hiking and off-road vehicle riding opportunities.
Trinity Hot Springs
If you're ready to indulge in a retreat featuring one of Idaho finest geothermal pools, Trinity Hot Springs is a must. In addition to the massive pool the resort offers a full-service spa, accommodations, RV/camping and a variety of Yoga and wellness retreats.
Trinity Springs Water has earned acclaim as the only certified "Naturliches Heilwasser" – a natural health water – in North America. The uniquely deep spring water is recognized as such by the Institut Fresenius in Europe – the international authority on free-flowing spring sources of exceptional purity that contain beneficial minerals.
Twin Springs Resort
How does a rustic river rock steam room along with your very own private soaking experience sound? Well, Twin Springs Resort delivers just that.
Each cabin features it's own private hot mineral spring pool that you can enjoy on your private deck overlooking the Boise river. The only catch is they don't offer any day use options, you must rent a cabin to experience this bliss.
The good news is that the cabins are reasonably priced at $125 per night for 2 people.
Skinny Dipper Hot Springs in Idaho [CLOSED]
Skinny Dipper Hot Springs sits between Banks and Garden Valley along highway 17. This once VERY popular spot has been closed by the BLM with plans to open it back up in 2022. The hot springs were closed because people straight up trashed it!
Recently discovered in the 90's these springs feature man made components along with natural rock to build the 3 pool system. Located along the steep banks of the Payette River these were a quick 0.5 mile scramble from the road.
There's now talk of the BLM not opening them back up at all. I will update this post as we learn more.
Givens Hot Springs
Established in 1881, Givens Hot Springs just celebrated its 140th year in business! Discovered by Oregon Trail pioneers Milford and Mattie Givens in 1879, this place is rich with history.
The Givens Hot Springs is a massive pool house but does feature one small outdoor pool. The pool is complete with lifeguards and the temperature runs about 98 degrees. The warmer outdoor pool was VERY hot.
This popular spot only gets better with onsite camping and RV sites making this and ideal stop for families.
1000 Springs Resort
The 1000 Springs Resort in Hagerman, Idaho features a massive indoor pool complex. Complete with 2′ kiddy pool, tube slide, 2 diving boards (high/low), floating log and basketball hoop. With lifeguards on duty this is a great option for younger kids.
In addition to the pool they offer camping and RV sites as well as cabins for rent. The resort is located along the Snake River and has several day use areas with outdoor grills and picnic tables right along the river. There's even a dock should you choose to go by boat.
Miracle and Banbury Hot Springs
If you're looking for an all-in-one hot spring resort than look no further, Miracle and Banbury Hot Springs is for you. They offer private soaking pools, 6 VIP pools, add 4 outdoor pools. Truly something for everyone here.
Overnight Accommodations at this location range from tents and RVs to dry cabins and fully furnished kitchen/multi bedroom lodging. They even have onsite massage.
Our favorite thing to do here is to rent a kayak, SUP board, or jet ski and explore the area on the slow waters of the Snake River. Nearby you'll find Blue Heart Springs, Banbury Islands and Box Canyon to name just a few. Here you can explore crystal clear springs or jump on a hike at one of the many trails.
After all of that it's of course time for a hot soak!
Indian Springs Resort & RV
Indian Springs Resort & RV​ is a family destination hot springs resort. With over 130 RV sites and a massive olympic sized geothermal heated pool this place promises all-day fun for the entire family.
The surrounding area is also rich with fun things to do. From golf and rock climbing to historical sites and fishing you'll have no problem keeping the family entertained.
Located in American Falls, Idaho the springs are 90 minute drive from Idaho Falls.
Lava Hot Springs Inn & Spa(Favorite East Idaho Hot Spring)
Whether you're looking for a romantic getaway or just some time to soothe your soul, Lava Hot Springs Inn has just what you need. Featuring a variety of different hot spring pools, services, and even a cold plunge pool should you dare.
They offer traditional spa services you'd expect plus one we hadn't heard of, Aquatic Bodywork. With Aquatic Bodywork the therapist supports and gently moves you through warm water in graceful fluid movements. The motions thoroughly stretch the spine and body while promoting a deep state of relaxation.
In addition to some of Idaho's finest springs you'll have a unique variety of accommodations to pick from should you desire. They offer six different buildings with a variety of different accommodations styles and soaking pools. The historic brick buildings remind me of a soaks in ancient European bathhouses.
Downata Hot Springs
Downata Hot Springs about 90 minutes south of Idaho Falls is a full featured hot spring resort offering up just about everything you might want. In addition to the large geothermal outdoor pool complete with water slides, they also offer a couple smaller and hotter soaking pools.
What makes this place unique are the assortment of overnight accommodations. You can pick from the normal stuff like cabins and lodges. But why not try a yurt or better yet a Glamping wagon.
Glamping Wagons provide you with a taste of the pioneer spirit, with the modern amenities today's traveler expects. The perfect combination of Old West ambiance, comfort and convenience.
When hunger strikes they also have a restaurant on site.
If you've never tried Glamping before, it's time you do,
Spice Up Your Road Trip: The West's Best Glamping Destinations
Maple Grove Hot Springs
Located just 90 minutes from Pocatello Idaho, Maple Grove Hot Springs offers a unique retreat in the Southeast corner of Idaho. The resort offers 5 different soaking options along the stunning Bear River.
They offer 4 different rock lined pools, with temps between 100-107 degrees, all tucked in along the shores of the scenic Bear River. In addition, they have a larger recreational pool with temperatures of 95-100 degrees.
While you can just visit for the day you'd be crazy not to stay the night. They offer a variety of options including, camping, Yurts, and Cabins.
The accommodations are beautifully done and are a perfect blend of rustic yet elegant. Best of all you'll have 24 hour access to the numerous pools right out your front door.
Bear River Hot Springs (Riverdale Resort)
Bear River Hot Springs, located in Southeast Idaho, features 4 different hot spring pools and tops it off with the largest water slide we've seen at a hot spring. The kids will love the larger recreation pool while you can find a little peace in one of the smaller hot pools.
The resort also offers rooms, cabins, and camping for an overnight stay.
Durfee Hot Springs
Durfee Hot Springs is a large recreational pool facility featuring 3 different pools. Located in Almo just outside the City of Rocks National Reserve, these springs are a perfect finish to a day of climbing or hiking at City of Rocks.
Nat Soo Pah Hot Springs & Campground
Nat Soo Pah Hot Springs just south of Twin Falls Idaho feature a large recreational pool experience with a small warming tub along the side. This kid friendly hot spring comes complete with water slides and a snack bar to keep the little ones fueled for an all-day experience.
The resort does close seasonally during the winter and opens each spring in May. They have camping facilities including limited RV hookups.