Tucked in below our northern boarder to Canada sits Idaho, a state often overlooked in favor of Washington and Montana. However, Idaho is as picturesque as it gets, offering natural landscapes that rival the best of Norway and Switzerland. The state is blessed with stunning waterfalls, razor-edge peaks, and peaceful small towns. Let's take a look at some of the best places to visit in Idaho!
1. Stanley Idaho and The Sawtooth Mountains
Stanley has that small-town feel, and why not? The population is barely up to 100 people. However, this little town is renowned for its pristine wilderness and natural landscapes at the Sawtooth Mountains' foot. The town is an excellent choice for mountain biking, hiking and climbing. But also famous for its fly fishing and river rafting along the Salmon River. If you need to escape the cold Stanley is home to some amazing hot springs, even one right in town!
2. McCall Idaho – Home of Payette Lake
Another mountain town, McCall, is situated on the shores of Payette Lake and has the highest average snowfall in Idaho. This resort town is lovely all year round and is a fantastic vacation destination for boaters, kayakers, swimmers, and paddle-boarders. But that isn't all McCall has to offer. Outdoor activities like hiking, biking and fishing are abundant here. Once the winter hits the town is transformed into a winter playground for skiers and snowmobilers.
3. Craters Of The Moon
Craters of the Moon would be the closest thing to Mars – if Mars were made entirely out of lava. This unique landscape stretches over 500 miles and was formed between 15,000 and 2,000 years ago. While there aren't any lava flows today, the crusty, alien-like terrain will take you back to when rivers of lava flowed along the Snake River Plain. It is a must-visit destination in Idaho and a favorite spot for during winter for cross-country skiing and snowshoeing.
4. Coeur d'Alene Idaho
Situated in Idaho's panhandle, Coeur d'Alene is famous for its lakes. All 55 of them in fact, making this one of the best places to vacation in Idaho. The area is well known for its vast array of water sports from boat cruises to white whitewater rafting. For the kids Coeur d'Alene is one of the favorites. With not one but two massive theme parks full of adventure. Maybe it's time to perfect your swing at one of the world famous golf courses. Finally, for skiers you can chase pow at one of three different ski resorts with more than 120 runs.
5. Shoshone Falls The Niagara Of The West
Often referred to as the Niagara of the West, Shoshone Falls is even higher than its more famous cousin, Niagara Falls. The breathtaking waterfall is situated in the Shoshone Falls Park. Which provides tourists with various facilities, including picnic areas, scenic playgrounds, hiking trails, and a boat ramp. The Shoshone Falls area also has lush grassy spots ideal for viewing the waterfall.
More great adventures in Idaho:
45 Idaho Hot Springs Maps and Guides
​​10 Unforgettable Fire Lookout Rentals in Idaho
19 Idaho Ski Resorts That Make Idaho a Premiere Ski Destination
6. Hells Canyon National Recreation Area
Hells Canyon sits along the Oregon Idaho border and is arguably the deepest water gorge in North America. The Canyon provides excellent fishing and whitewater rafting opportunities along the Snake River. Hikers will also enjoy exploring the myriad backpacking and hiking trails around the area. If you're a history buff, take a minute to explore the Kirkwood Historic Ranch to get a glimpse of what ranch life was like in the 1930s.
7. Boise City Of Trees
Boise is a big city with a small-town charm and is your go-to place for lots of outdoor activities. The city sits right on the Boise River and is an excellent choice for many outdoor activities. Check out Hyde Park for some north end charm at the base of the foothills. Escape for a quick hike or bike ride before indulging on some amazing food and drink. Did you know Boise is one of the fastest growing cities in the country?
8. Hagerman Fossil Beds National Monument
The Hagerman horse was an Ice Age Mammal that existed thousands of years ago. The Hagerman Fossil Beds National Monument has the single largest concentration of these horses. The monument has an international significance, housing the hundreds of fossil deposits from the Pliocene Age. In addition to the Hagerman Monument, visitors can enjoy hiking, fishing, or boating at the Lower Salmon Falls Reservoir.
9. Idaho Falls
Idaho Falls, renowned for its fantastic nature and warm Western hospitality, lies beneath the magnificent Grand Tetons. Art enthusiasts will love the Art Museum of Eastern Idaho which is free on the first Saturday of the month. The Colonial 7 is an impressive Greek neoclassical building and the venue for performing artists.
10. Sandpoint Idaho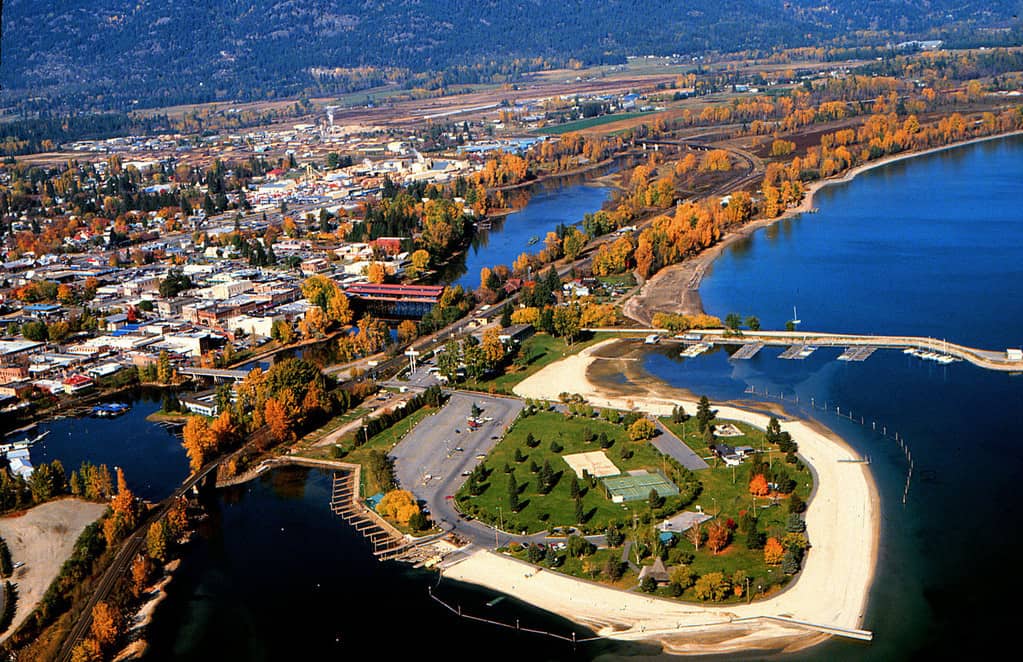 You can find Sandpoint at the northernmost part of Idaho along the 43-mile long Lake Pend Oreille. This beautiful town is surrounded by the Cabinet and Selkirk Mountains with lots of activities to do outdoors. Beer fans will find Laughing Dog Brewing a delicious an educational experience. While those who prefer the grape can head over to Pend d'Oreille Winery providing a similar experience for wine enthusiasts.
11. Yellowstone National Park
The world's most famous Park is just barely located in Idaho, like 1% of it. Regardless, it's an extraordinary wilderness that stretches for thousands of miles made famous by hot springs and geysers. Yellowstone National Park is also famous for its thick forests teeming with elk, bison, antelope bears, and wolves.
12. Pocatello
The town sounds like something you'd find in the heart of Italy, but this cowboy town is far from it. Visitors will enjoy the rich cultural life of the Old Towns Actors Studio and Palace Playhouse theater. Or visit one of the many historic pubs and saloons that line the main street.
An interesting tidbit, Pocatello is the only town in the world with a law making it illegal not to smile! The beautiful town has so much to offer, including hiking, golf, bird watching, and fishing.
13. Salmon Idaho
Salmon is a pleasant little town located on the edge of the Frank Church Wilderness. If exploring the largest roadless wilderness area in North America is your thing this is the place to do it. During winter, the Lemhi Valley Range bursts into life with various winter activities like cross-country skiing, ice fishing, and fat biking.
14. Silver City Mining Town
The rugged and picturesque Silver City is one of the few old mining towns that has not been destroyed by fire or become commercialized. The 8,000 feet-high Owyhee mountains surround Silver City which sits at an elevation of 6,200 feet. Visiting the town is like taking a step back in time. With about seventy-five structures dating back from 1860's to the early 1900's there's and immense amount of history here. One of the main buildings, the Idaho Hotel stands nearly unchanged as it did 100 years ago. You will find a few modern amenities like restaurants and even a hotel which gives you an even better feel for the town.
15. Bruneau Dunes State Park
Bruneau Dunes State Park provides a different type of fun for nature lovers. The Park has everything from fishing lakes to desert vistas and some of the tallest dunes in the continental United States. Visitors can connect with nature by going camping or riding off road vehicles on the dunes, some of which stand above 300 feet. You can even try your luck at dune sledding.
Here are some more great things to do in Idaho
11 Idaho Ghost Towns You'll Never Forget
15 Boise Attractions You Can't Go Wrong With
Coeur d'Alene In Winter – Best Things To Do In A Winter Wonderland