Idaho is an incredible state with a breathtaking array of scenery, from the Snake River Valley to the Sawtooth Mountains and many more stunning spots.
The beauty of Idaho is so appealing that it has earned the nickname "Gem State"! With an abundance of tourist attractions and vacation spots, there's no shortage of amazing sights to discover in this beautiful state.
You can marvel at its majestic mountain ranges, revel in its glistening lakes and rivers, explore lush forests and rolling hillsides – or simply enjoy its vibrant culture filled with unique attractions that everyone will love.
When it comes to beauty and diversity among states in the US, Idaho stands out as one of the most impressive places for exploration!
Whether you're visiting with family or friends or just looking to get away from it all for a while, Idaho has something spectacular waiting for you.
So come explore! Here are some of the best places to visit in Idaho.
Best Places To Visit In Northern Idaho
If you're looking for natural beauty and outdoor recreation, Northern Idaho is the perfect destination. From sprawling national forests to serene lakes and rivers, there are plenty of amazing places to visit in this stunning region.

Here are some of the top spots in Northern Idaho that you won't want to miss:
Coeur d'Alene Idaho (Known As One Of The Best Idaho Destinations)
Situated in Idaho's panhandle, Coeur d'Alene is famous for its lakes. All 55 of them in fact, making this one of the best places to vacation in Idaho.
The area is well known for its vast array of water sports from boat cruises to white whitewater rafting. For kids Coeur d'Alene is one of the favorites.
With not one but two massive theme parks full of adventure. Maybe it's time to perfect your swing at one of the world famous golf courses. Finally, for skiers you can chase pow at one of three different ski resorts with more than 120 runs.
Sandpoint Idaho (Great Vacation Spot)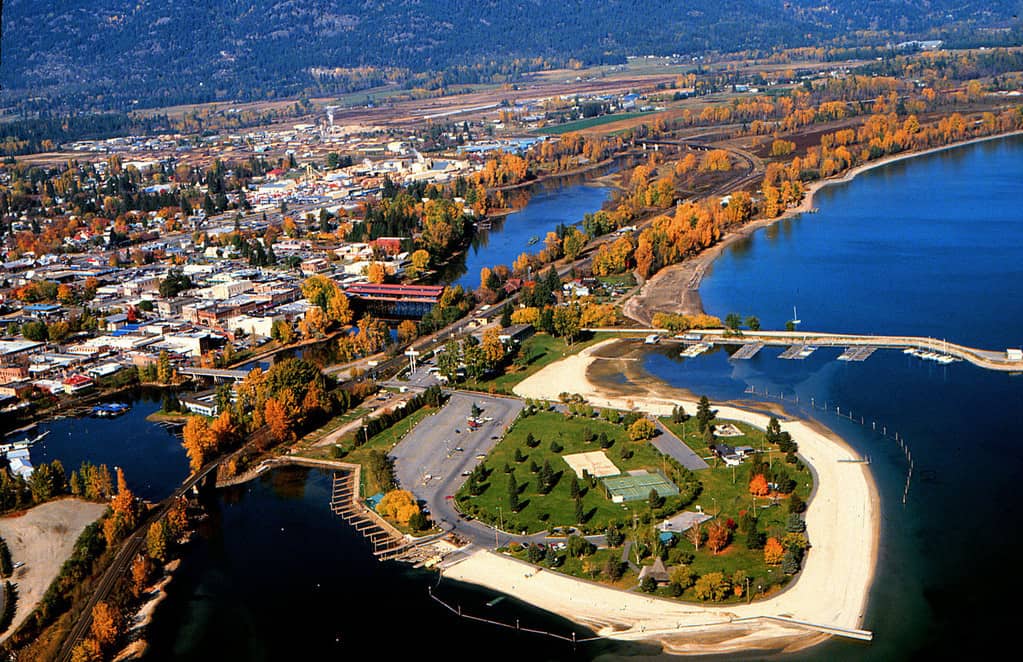 Sand Point, Idaho, nestled between 3 mountain ranges, is one of the best places to visit in Idaho and offers visitors stunning mountain views, fishing opportunities, hiking trails, skiing, camping grounds, and more! This charming town is situated right on the edge of Lake Pend Oreille and is the perfect destination for an outdoor getaway.
The nearby Farragut State Park offers a plethora of activities like boating, swimming, biking, picnicking, fishing, birdwatching, and much more. Additionally, there are some amazing boat tours available that will take you out onto the lake for an unforgettable experience.
If you're looking to hit the slopes, head to Schweitzer Mountain Resort, which is just a short drive from Sand Point. Here you can experience some of the best skiing, snowboarding, and tubing in Idaho and enjoy breathtaking views of the surrounding mountain range.
Wallace Idaho
Wallace, Idaho is a charming town located in Northern Idaho, near the Idaho/Montana border; this area is known for its incredible scenery and recreational opportunities.
Enjoy the underground mine tours, mine museums, seeing the "Center of The Universe," and wandering downtown. You'll find plenty of places to get a bite to eat or something to drink in downtown Wallace.
Another notable thing to do in the Wallace area is the Hiawatha trail, a breathtaking 15-mile ride through stunning forests and past sparkling rivers with ten train tunnels and seven sky-high trestles.
A couple of our favorite places to get a bite to eat or drink are:
Best Place To Visit In Central Idaho
Central Idaho is home to some of the most stunning landscapes in the US, making it a great destination for outdoor-lovers. The Sawtooth National Forest offers plenty of hiking, camping, fishing and other outdoor activities, while the Salmon River meanders through rugged canyons teeming with wildlife. Payette Lake is a popular spot for swimming, boating, and fishing.
Payette Lake is a popular spot for swimming, boating, and fishing.
For something a bit different, head to Hells Canyon National Recreation Area. This unique landscape is the deepest river gorge in North America.
Stanley Idaho and The Sawtooth Mountains
Stanley within the Sawtooth National Recreation area has that small-town feel, and why not? The population is barely up to 100 people. However, this little town is renowned for its pristine wilderness and natural landscapes at the Sawtooth Mountains' foot.
The town is an excellent choice for mountain biking, hiking, and climbing. But also famous for its fly fishing and river rafting along the Salmon River.
If you need to escape the cold, Stanley is home to some amazing hot springs, even one right in town!
While visiting Stanley, don't miss a summer day at Red Fish or Stanley Lake. Both of these places are great places to enjoy the beauty of the Sawtooths from a crystal clear, refreshing (yet cold) lake.
McCall Idaho – Home of Payette Lake and Brundage Mountain
Another mountain town, McCall, is situated on the shores of Payette Lake in Idaho's Payette National Forest and has the highest average snowfall in Idaho. This resort town is lovely all year round and is known for its lakeside camping, hiking trails, and recreational activities such as kayaking, biking, boating, and fishing.
In the summer months, enjoy some relaxation by taking a boat ride or Paddleboarding on one of McCall's many stunning lakes, or head to Ponderosa State Park to hike among some towering pines.
But that isn't all McCall has to offer. Once the winter hits, the town is transformed into a winter playground for skiers and snowmobilers. Winter enthusiasts enjoy Brundage Mountain Ski Resort, Little Ski Hill, or Tamarack for skiing and boarding.
The nearby city of McCall has plenty to offer in terms of restaurants, shopping, nightlife, and more!
While visiting the area, don't miss getting a beer at one of McCalls three breweries, Salmon River Brewery, McCall Brewery, or Broken Horn. If beer isn't your thing consider hitting up the Bistro 45 or Ruperts for some yummy food.
Hells Canyon National Recreation Area
Hells Canyon sits along the Oregon-Idaho border and is arguably the deepest water gorge in North America. The Canyon provides excellent fishing and whitewater rafting opportunities along the Snake River.
Hikers will also enjoy exploring the myriad backpacking and hiking trails around the area.
If you're a history buff, take a minute to explore the Kirkwood Historic Ranch to get a glimpse of what ranch life was like in the 1930s.
Salmon Idaho
Salmon, a city located in Lemhi County, is renowned for its nickname – "Whitewater Capital of the World". Salmon, Idaho is a picturesque town nestled on the edge of the Frank Church-River of No Return Wilderness Area – an area that many people see as their gateway to adventure.
Situated roughly 30 miles from the Continental Divide, Salmon offers beauty and opportunity for exploration like no other place in America. It is here that adventurers embark on journeys to explore mountain lakes and streams, rivers and national forests.
Salmon serves as the major gateway to these beautiful landscapes.If you're looking to explore the backcountry, there are various guides and outfitters offering specialized services such as hunting, fishing, rafting and horse-packing.
The town of Salmon is situated in an ideal wild river region for fishermen; Lewis & Clark even gave this area its nickname – "River of No Return"!
This mighty salmon river stands out among North America's few undisturbed rivers. From June to September, countless Chinook salmon make their way through the gravel beds of the river – although these numbers have been dwindling in recent years. Moreover, rainbow trout and steelhead also thrive here!
In wintertime, tourists can take part in snowmobiling or cross-country skiing with plenty of trails surrounding the town.
Best Places To Visit In Southern Idaho
Southern Idaho offers a multitude of great places to explore. Whether you're looking for outdoor adventures or cultural and historic experiences, Southern Idaho is a fantastic destination. Here are some of the best places to visit in Southern Idaho:
Shoshone Falls, Twin Falls (The Niagara Of The West)
Often referred to as the Niagara of the West, Shoshone Falls is even higher than its more famous cousin, Niagara Falls. The breathtaking waterfall is situated in the Shoshone Falls Park.
Which provides tourists with various facilities, including picnic areas, scenic playgrounds, hiking trails, and a boat ramp. The Shoshone Falls area also has lush grassy spots ideal for viewing the waterfall.
More great adventures in Idaho:
45 Idaho Hot Springs Maps and Guides
​​10 Unforgettable Fire Lookout Rentals in Idaho
19 Idaho Ski Resorts That Make Idaho a Premiere Ski Destination
Twin Falls Idaho
Twin Falls is a great place to visit for outdoor enthusiasts. As mentioned above, this scenic town is home to the world-famous Shoshone Falls, located on the Snake River.
Twin Falls has plenty of outdoor activities to enjoy, including rafting, kayaking, hiking, fishing, camping, and searching for waterfalls.
As well as outdoor activities, Twin Falls is home to many restaurants and other local attractions, such as the Perrine Bridge, Herrett Center for Arts and Science, and loads of shops.
Be sure to check out the Centennial Waterfront Park with its picturesque views of the Snake River. And don't forget to visit one of the breweries in town for a unique experience.
Twin Falls is certainly a great place to visit if you are looking for an outdoor adventure or just a quiet weekend away from the hustle and bustle of everyday life.
Craters Of The Moon National Monument
Craters of the Moon would be the closest thing to Mars – if Mars were made entirely out of lava. This unique landscape stretched over 500 miles and was formed between 15,000 and 2,000 years ago.
While there aren't any lava flows today, the crusty, alien-like terrain will take you back to when rivers of lava flowed along the Snake River Plain.
It is a must-visit destination in Idaho and a favorite spot during winter for cross-country skiing and snowshoeing.
Boise City Of Trees
Boise is a big city with a small-town charm and is your go-to place for lots of outdoor activities. The city sits right on the Boise River and is an excellent choice for many outdoor activities.
Check out Hyde Park for some north end charm at the base of the foothills. Escape for a quick hike or bike ride before indulging on some amazing food and drink. Did you know Boise is one of the fastest growing cities in the country?
Hagerman Fossil Beds National Monument
The Hagerman horse was an Ice Age Mammal that existed thousands of years ago. The Hagerman Fossil Beds National Monument has the single largest concentration of these horses.
The monument has an international significance, housing the hundreds of fossil deposits from the Pliocene Age. In addition to the Hagerman Monument, visitors can enjoy hiking, fishing, or boating at the Lower Salmon Falls Reservoir.
Idaho Falls
Located alongside the magnificent Snake River, Idaho Falls presents a welcoming and genuine small-town atmosphere with year-round activities.
Nature lovers are drawn to the nearby Yellowstone National Park, Grand Teton National Parks, tranquil hot springs, and fly fishing along the Snake river or visiting Mesa Falls's majestic cascades.
Regardless of what season it is outside—you're sure to find something that interests you in this beautiful city!
Whether you're a family looking for kid-friendly attractions like zoos, aquariums, museums, and riverfront activities; or a foodie or culture lover in search of delicious local dining options and shopping opportunities in preserved historic buildings – Idaho Falls offers something to make everyone smile.
Plus, this four-season destination is the perfect place for your next year-round getaway – come explore the second-largest city in all of Idaho!
Yellowstone National Park-Yes A Tiny Sliver Of The Park Is In Idaho
The world's most famous Park is just barely located in Idaho, like 1% of it. Regardless, it's an extraordinary wilderness that stretches for thousands of miles made famous by hot springs and geysers. Yellowstone National Park is also famous for its thick forests teeming with elk, bison, antelope bears, and wolves.
Pocatello
Situated on the Snake River Plain alongside the Portneuf River, Pocatello is Idaho's fifth-largest city. Home to Idaho State University, it offers a multitude of recreational activities such as golf, skiing, mountain biking and fishing that will surely be appreciated by any outdoor enthusiast.
Moreover, its rich culture and history can be explored through various museums in addition to nearby Native American and Oregon Trail landmarks!
Lava Hot Springs
Lava Hot Springs Idaho is a small town located in southeastern Idaho, and it's home to some of the best hot springs in the state. The area offers several natural hot springs, which are perfect for soaking after a long day of traveling or exploring.
In fact Lava Hot Spring is an unexpected gem on any Yellowstone and Glacier NP Road Trip, located in the southeast corner of Idaho, just 35 minutes from Pocatello and 1 hour 15 minutes south-east of Idaho Falls. It's only 2 hours 45 minutes away from Jackson Hole, as well as two hours north of Salt Lake City – making it an ideal vacation destination for everyone!
Lava Hot Springs is not only a hot spring, but it is an idyllic summer destination. Not to mention the outdoor water park and river for floating down! With sunny grassy areas perfect for basking in the sun and of course, its renowned hot springs – Lava has something adventurous to offer everyone in your family this summer.
Lava Hot Springs is the perfect destination for a leisurely stroll, as everything in town can be reached within a few blocks. Here you'll find grocery stores, restaurants, and plenty of accommodation options conveniently located at the center of it all.
Silver City Mining Town
The rugged and picturesque Silver City is one of the few old mining towns that has not been destroyed by fire or become commercialized.
The 8,000 feet-high Owyhee mountains surround Silver City which sits at an elevation of 6,200 feet. Visiting the town is like taking a step back in time.
With about seventy-five structures dating back from 1860's to the early 1900's there's and immense amount of history here. One of the main buildings, the Idaho Hotel stands nearly unchanged as it did 100 years ago.
You will find a few modern amenities like restaurants and even a hotel which gives you an even better feel for the town.
Bruneau Sand Dunes State Park
Boasting one of the most extended camping seasons within Idaho's Parks system, Bruneau Dunes State Park provides a myriad of camping options throughout the whole year.
Let your curiosity take you to Bruneau Dunes Park, home of the highest single-structured sand dune in all of North America – standing at an awe-inspiring 470 feet tall!
Go on a thrilling adventure and explore these magnificent dunes with a pair of sturdy hiking boots or rent yourself a sandboard from the Visitor Center.
However, please note that off-road vehicles are only allowed on the main road. If you're looking for a fishing adventure, the lakes found at the base of these dunes offer plenty of bluegill to catch!
Embark on a breathtaking journey and uncover the secrets of the desert through an exhilarating hike or thrilling horseback ride.
For many, the pinnacle of their visit to Bruneau Dunes is a trip to the incredible Bruneau Sand Dunes Observatory. It offers some of the best stargazing opportunities around!
The observatory welcomes visitors from early April until mid-October on Friday and Saturday nights for an enchanting experience of stargazing.. Bruneau Sand Dunes Observatory tours and solar viewing starts about an hour before sunset.
Then there is a short program about space and then you can use the telescopes at the observatory.
Sun Valley And Ketchum
Sun Valley is a popular resort city located in central Idaho, not far from the Sawtooth Mountains. The region is known for its amazing views of mountain peaks and lush valleys that draw visitors year round.
In wintertime, Sun Valley Ski Resort offers awesome skiing and snowboarding terrain, while summer brings activities like mountain biking, fishing, hiking and more.
Sun Valley is also home to many luxury resorts, fine restaurants, bars and other attractions like the Ketchum Arts Festival, Galena Lodge and Trail Creek Cabin.
If you're looking for a place with a little bit of something for everyone, Sun Valley is definitely worth checking out!
Is There A Difference Between Sun Valley And Ketchum?
To put it simply, the city boundaries of Ketchum and Sun Valley overlap. Ketchum contains parts of an old mining town grid and is considered a main area in this region.
It also extends to cover Warm Springs Canyon and River Run base areas for Bald Mountain skiing opportunities.
In contrast, Sun Valley houses the original resort village and golf courses, in addition to the Elkhorn and Dollar Mountain base area neighborhoods.
Moreover, this beautiful valley also encompasses Hailey and Bellevue to its south – two towns that you are likely to fly or drive through on your way there. Though people often refer collectively to these locations as 'Sun Valley.'
Thousands Springs State Park
Before I begin, let me clarify that Thousand Springs State Park is a tricky place to navigate. Unlike the typical state or national park where you enter and signs guide your way, this one requires more of an exploratory approach.
Get ready for a unique adventure!
Don't be fooled by the sheer magnitude of this park! It's composed of several different "units" that are connected via towns and public roads.
This means it might not necessarily fit your preconceived idea of what a "park" should look like – but rest assured, its complexity is what makes it great!
Thousand Springs State Park is composed of six distinct "units", each with its own name: Malad Gorge, Kelton Trail, Billingsley Creek, Ritter Island, Earl M. Hardy Box Canyon Springs Nature Preserve and Niagara/Crystal Springs (which some sites combine).
Adding these up gives us a grand total of six areas in the park!
Here are some more great things to do in Idaho
11 Idaho Ghost Towns You'll Never Forget
15 Boise Attractions You Can't Go Wrong With
Coeur d'Alene In Winter – Best Things To Do In A Winter Wonderland

Get Out And Explore The Best Places In Idaho
There you have it – a comprehensive guide to the top places to visit in Idaho.
From the breathtaking natural wonders of Hells Canyon National Recreation Area and Craters of the Moon National Monument, to the cultural attractions in the city of Boise and Sun Valley , there's something for everyone in Idaho.
Whether you're looking for outdoor adventure or a chance to explore history and culture, Idaho provides it all. So what are you waiting for? Start planning your next great getaway to the beautiful Gem State today!