Boise, Idaho has plenty to offer; with its warm summer months, lots of outdoor activities, and an abundance of local food, you'll find that Boise has a wide variety of things to do throughout the year.
Boise is home to historical sites like the Old Idaho Penitentiary, The Botanical Gardens, and Morrison Knudsen Nature Center, all must-see attractions. Boise is becoming more and more popular, and for a good reason! The city has a lot to offer.
The Boise Farmers Market
One of the best activities in any city is to visit its farmer's market. Farmer's markets are a bustling, colorful environment that showcases what communities offer and provides shoppers with fresh produce at reasonable prices.
The Boise Farmers Market is a fun and easy way to try local produce. You'll see that there's more than just potatoes in this state! You can sample some incredible wine, cheese, or meats when at the market.
Next time you're looking for some fantastic deals on vegetables or fruit – head over to the Boise Farmers Market! The Boise Farmers Market is open on Saturdays from 9 a.m. to 1 p.m., April to October.
Discover the Unique Wildlife at Morrison-Knudsen Nature Center
The Morrison-Knudsen Nature Center is an excellent place to escape the hustle and bustle of city life. Covering an area of four acres, the StreamWalk and Visitor Center provides a glimpse into Idaho's many landscapes as well as abundant wildlife.
There are glass-paned underwater viewing windows along the stream walk that provide visitors an up-close view of the fish world underneath. You can also get a taste of nature at this natural habitat with 25 miles of paved trails that are perfect for biking or walking along the Boise River Greenbelt.
Address: 600 S Walnut St, Boise, ID 83712
Vintage Tractor and Steam Engine Tours
JUMP (Jack's Urban Meeting Place) showcases 51 vintage steam engines and tractors dating as far back as 1885. These inspiring examples of industrial art and innovation connect the agricultural roots to the future of downtown Boise.
Free community tractor tours are offered every Wednesday at Noon, If you want to sign up for the tractor tour call 208.639.6610, or email [email protected]
Address: 1000 W Myrtle St, Boise, ID 83702
Are you familiar with Groupon? If not you are missing out. Groupon is FREE to use and offers discounts to restaurants plus a bunch of other Boise businesses. Here are the latest deals for Boise – CLICK HERE
JUMP (Jacks Urban Meeting Place)
If you want a place that encourages creativity and innovation, then head on over to JUMP (Jack's Urban Meeting Place). This interactive creative center is one of those spots where people can have fun while encouraging creativity!
There are learning studios for any occasion as well as event spaces available. They also have an outdoor amphitheater where you can catch an outdoor movie or concert under the beautiful Boise stars.
For the adventurous person looking for a fun and unique thing to do in Boise, the JUMP also offers various experiences like the "climber" and the "spiral slide." The Climber is a three-story net structure climbing area, and the Spiral Slide is the ultimate 5 story slide.
Address: 1000 W Myrtle St, Boise, ID 83702
Treefort Music Fest
Treefort Music Fest is one of the top Boise attractions in the spring. Hundreds of bands and even more spectators come to downtown Boise for a terrific music event every year.
Treefort Music Fest is a 5-day music festival that has been taking place in Boise, ID, since 2012. Since then, it's grown to be an annual event and consistently hosts amazing musical acts like Built to Spill, TV on the Radio, and George Clinton Parliament-Funkadelic.
See if you can plan your trip around the next Treefort Music Fest.
The Basque Market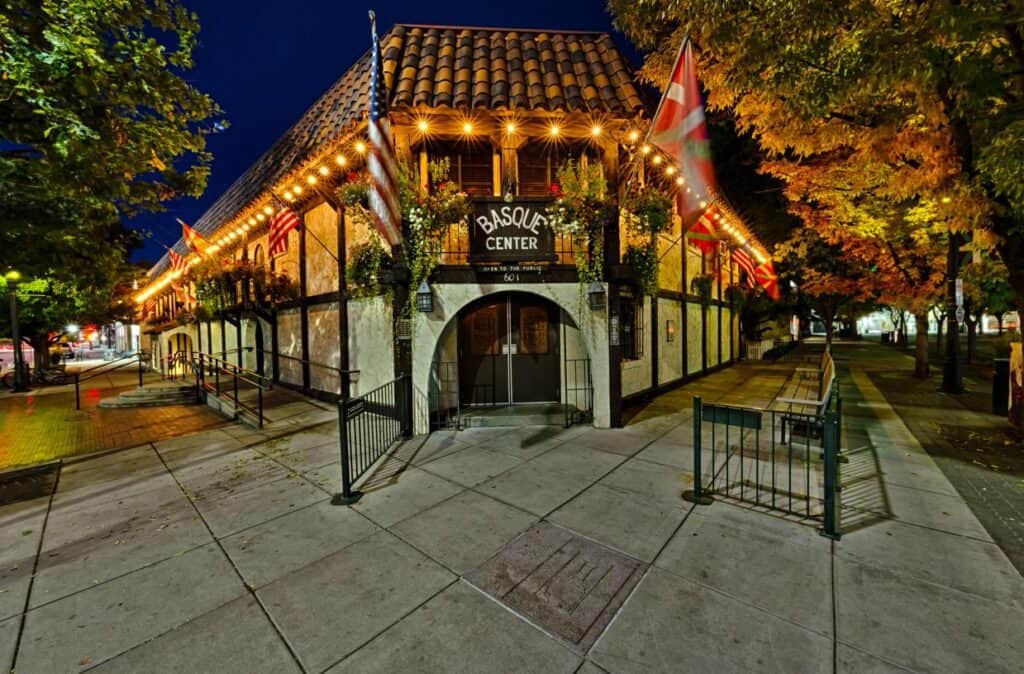 The Basque Market was established back in 2000 to promote the culture and history of the Basques in Boise, Idaho. The Basque culture has been around for centuries, and Boise has one of the biggest communities outside of Spain.
It's no wonder so many people flock to Idaho searching for this unique tourist attraction.
The Basque Market is located in the heart of The Basque Block in downtown Boise and offers food, artisans, live music performances, and more!
Address: 608 W Grove St, Boise, ID 83702
Idaho Discovery Center
The Discovery Center of Idaho is a science center that seeks to inspire people interested in engineering, science, and technology. There are about 200 exhibits at this interactive facility, including the famous Bubble Wall, Centripetal Wheel, and Turbulent Orb, making the Idaho Discovery center one of the best things to do in Boise.
In addition to the permanent exhibits, the Discovery Center Idaho offers rotating exhibitions, camps, and classes on Saturdays during the school year.
There is also a Young Discoverers Program where children can explore scientific principles through interactive displays. Adults can have their own fun with live music, drinks, and local food during the Discovery Centers adult nights. Visiting the Discovery Center is a great family fun thing to do in the heart of Idaho's capital city.
Address: 131 W Myrtle St, Boise, ID 83702
Boise River Greenbelt Biking and Hiking
The Boise Greenbelt is a 25-mile bike and walking path that follows along the Boise River, connecting Eagle Island State Park in Eagle through Downtown Boise, and ends at Lucky Peak. Biking and walking the Greenbelt is an easy way to explore downtown Boise and it's also great for cyclists looking to get around the city.
There are plenty of scenic stops along this route, including museums, parks, and historic sites. It offers a unique perspective into what makes this capital city so special. Check out the Boise River Greenbelt trail map here.
Zoo Boise
The Boise Zoo, like any other zoo in the country, provides a wonderful environment for the entire family to enjoy an exciting day out. It features a wide variety of animal exhibits and many other attractions.
The most popular attractions at the Boise Zoo include the Conservation Cruise, Butterflies in Bloom, and the Giraffe and Sloth Bear Encounter.
Adventurous visitors will enjoy seeing baboons, crocodiles, and African Wild dogs. If you're interested in feeding farm animals, the Zoo farm area offers this opportunity where you can engage with and interact with goats, sheep, and llamas.
Be sure to check the Zoo Boise website for special events such as Boo at the Zoo, Claus' N Paws, Spooktacular, and Zoobilee.
Address: 355 Julia Davis Dr, Boise, ID 83702
Take a Stroll Through Julia Davis Park
Julia Davis Park is located in the heart of downtown Boise. There are 90 acres of green space in Julia Davis with all sorts of features, like a formal Rose Garden, two pavilions, a duck pond, bocce courts, statues, a playground, river access, and more.
The land for the park was donated by Tom Davis, who donated 43 acres to create a memorial for his wife, Julia. Not only does the park have many notable features, but it also has some of Boise's major attractions, such as the Boise Art Museum, the Idaho Black History Museum, the Idaho Historical Museum, and Zoo Boise.
Address: 700 South Capitol Boulevard, Boise, Idaho, Phone: 208-384-4240
Trolley Tours
Boise is known as a city of bicycles. However, if you want to cover more ground in less time, then take advantage of the trolley tours through the city. The trolley tours are a great way to explore Boise while getting a glimpse of the popular neighborhoods and exploring downtown Boise.
One of the most popular tours is The Miss Molley Trolley, a fully narrated 75min tour covering downtown Boise History, Warm Springs Rd, Hyde Park, the Basque Block, Idaho State Capitol, and the East End. It's a great family activity that is both entertaining and educational.
World Center Birds of Prey
The Boise World Center for Birds of Prey is an oasis for bird lovers. It's on the hillside, with scenic views that overlook Boise. People describe it as a conservation, educational, and exhibition venue all in one.
The center features live birds of prey and exhibits on the natural history and conservation of these animals. They offer education programs about these birds and provide daily guided tours to see them up close.
Address: 5668 W Flying Hawk Ln, Boise, ID 83709
Boise Art Museum
The Boise Art Museum (BAM) is a fantastic spot for art enthusiasts. It has an extensive collection of Western American paintings, sculptures, and Asian pieces from China, India, Japan, Korea, and Vietnam.
The museum currently holds over 5,000 works, ranging from historical to contemporary pieces in areas such as European and American art, modern and contemporary art, photography, and more.
Address: 670 Julia Davis Dr, Boise, ID 83702
Aquarium of Boise
The Aquarium of Boise is a hands-on aquarium where you can get up close and personal with Black Tip Reef Sharks, Stingrays, and Pufferfish. This facility houses over 250 species of animals and offers special pools where you can touch or hold marine animals such as corals, crabs, rays, sharks, and starfish.
The aquarium's centerpiece is a huge octopus tank, but you'll also find other attractions such as a bird aviary. Have fun learning about marine animals and other exotic creatures at this family-friendly spot in Boise.
Address: 64 N Cole Rd, Boise, ID 83704
Camel's Back Park
Camel's Back Park is an 11-acre city park in the North End of Boise within the Hyde Park Neighborhood. It's a popular spot for locals and visitors alike. Camels Back provides scenic overlooks of Downtown Boise and is a fantastic place to watch fireworks.
With a little snow, the lower hill becomes one of Boise's most popular sledding hills making it a great winter activity for the entire family.
Camels Back Park is the gateway to the Hull's Gulch Reserve, the Boise Foothills, and the sprawling Ridge to Rivers trail system spanning for almost 100 miles. The park is a favorite meeting spot for mountain bikers, hikers, and walkers.
Camel's Back Park has plenty of green space, including picnic areas, volleyball, tennis courts, a playground, and an outdoor gym area.
Address: 1200 Heron St, Boise, ID 83702
Visit the Basque Block
For a unique thing to do in Boise, head over to the Basque Block, an area that's home to the largest Basque population outside of the Basque Country.
The Basque country is more than just a region; it's home to an ancient and distinct culture with influences from France and Spain. The Basque Block comprises two boarding houses -­ the Cyrus Jacobs-Uberruaga house and the Anduiza, along with the Basque Center, the Basque Museum, and Cultural Center.
People come from all over Idaho to visit the basque block, where you'll find authentic food, culture, and customs that are unique to the Basque area. ​​Check out one of these popular places to get a genuinely unique Basque experience,
Bar Gernika, Leka Ona restaurant, and the Basque Market are all worth a visit.
Address: W Grove St, Boise, ID 83702
Freak Alley
Freak Alley in the heart of downtown Boise is a must-see for any art lover. The multi-artist outdoor mural gallery stretches between 8th and 9th Street at Bannock and Idaho.
It has become the most extensive outdoor gallery in the Northwest, giving hundreds of talented artists a showcase for their work. The murals are constantly changing as artists paint over old murals or incorporate new paintings with existing artwork.
The first mural on this stretch was created by Colby Aker back in 2002 when he added drawings to Moon Café's alley door. It's grown over time, with more murals being painted every year.
Address: 210 N 9th St, Boise, ID 83702
Hulls Gulch Reserve, Boise, ID
Hulls Gulch Reserve at the base of the foothills is a 292-acre site north of downtown Boise. Hikers, mountain bikers, dog walkers, runners, and horseback riders enjoy the trails in this area.
With an abundance of wildlife, Hulls Gulch is home to everything from great horned owls, coyotes, mule deer, red fox, snakes and lizards.
Address: 3001 N. Sunset Peak Rd
Bogus Basin Mountain Recreation Center
Bogus Basin Mountain is a popular destination and ski resort in Idaho. Even if skiing or snowboarding isn't your thing, Bogus Basin offers a wide variety of things to do throughout the year.
Hiking, biking, skiing, tubing, riding the mountain coaster, playing on the bungee trampoline, and even Nordic skiing are all things you can do at Bogus Basin. The best part is Bogus is only a short 20-mile drive from downtown Boise.
For more information about Bogus Basin Mountain, visit their website
Don't miss out on exploring Idaho's 19 other ski resorts; learn more about them here.
Enjoy the Beauty of the Idaho Botanical Garden
Located on 15 acres of prime land, the Idaho Botanical Garden is a historical gem that once belonged to the Old Idaho State Penitentiary in the Boise Foothills.
The Botanical Gardens contain many gardens, including the Alpine Garden, Cactus Garden, and English Garden. The grounds include a fantastic array of colorful flowers and exotic plants.
In addition to the lovely gardens and lush array of flora and fauna, you'll discover a range of family-friendly activities. The sensory garden allows youngsters to engage with plants in an entertaining way while also exploring and interacting with their surroundings.
Don't miss the Outlaw Fields Summer Music Series at the Idaho Botanical Gardens Outdoor Amphitheater, where you can sip wine under the stars while listening to your favorite songs.
Address 2355 N Old Penitentiary Rd, Boise, ID 83712
Idaho Black History Museum
The Idaho Black History Museum focuses on the impact of African Americans in Idaho and around the world. The museum presents exhibits and provides educational and community outreach programs, including lectures, films, workshops, literacy programs, and musical performances.
The museum's purpose is to build bridges between cultures to explore issues that affect Americans of all cultures and share the history of African Americans and their contributions to the state, region, nation, and world.
The museum is located in downtown Boise and is housed in the historic St. Paul Baptist Church located in Boise Julia Davis Park.
Address 508 Julia Davis Dr, Boise, ID 8370
Old Idaho Penitentiary
The Old Idaho Penitentiary has been offering tours for decades, making it the oldest operational historic site in Idaho. The tour of this old prison includes a walkthrough of the cells and an overview of what life was like on the inside. It even includes visits to the gallows where prisoners were put to death.
Old Idaho Penitentiary, also known as the "Labyrinth of Death," was established in 1885 to house prisoners. The museum contains a variety of artifacts dating back over 100 years, including photographs and personal effects from those incarcerated at this facility.
Address: 2445 Old Penitentiary Rd, Boise, ID 83712
The Boise Flicks: Rick's Cafe Americain
If you are looking for something fun to do in Boise, then The Boise Flicks is a great place to start. The Flicks is a small theater that has been around since the 1980s and shows a variety of films from classic cinema to current releases.
In addition to popcorn and drinks, they serve food, wine, beer and desserts. You can even ​​enjoy food and beverages on their delightful garden patio next to the fountain on a beautiful starry evening.
Address: 646 W Fulton St, Boise, ID 83702
Boise Train Depot
One of Boise's most prominent landmarks is the Boise Depot. The beautiful Spanish-style structure provides a unique historic setting for weddings, corporate parties, business receptions, luncheons, meetings, and community events.
The station overlooks the fantastic landscape of Boise and provides a view of the downtown skyline. The panoramic view from the Depot patio is a stunning glimpse of the Boise city skyline and the foothills.
In the evening, the 96-foot bell tower is bathed in floodlights and is seen throughout the city.
Address: 2603 W Eastover Terrace, Boise, ID 83706
Kathryn Albertson Park
Kathryn Albertson Park is a fantastic location for outdoor activities. It was given its name in memory of Kathryn Albertson, a local lady who gave the city the land. The park is one of Boise's most famous gifts, and it has picturesque touches like gazebos, paved walking paths, and ponds surrounded by waterfalls.
There are stone inscriptions that will fill visitors in on the flora & fauna found here– much of which has been chosen for their compatibility with wildlife. Visiting this park will give you firsthand insight into how our precious ecosystem works.
Address: 1001 S Americana Blvd, Boise, ID 83706
Boise Centre
Boise Centre is a venue in the heart of Boise. The Boise Centre has over 200 events every year, including international and national conventions, fundraisers, tradeshows, and banquets.
It offers a variety of events and entertainment that all age groups can enjoy. They have an impressive lineup of live performances, concerts, and sporting events that take place here regularly.
It's located in a thriving area with a variety of restaurants, breweries, and hotels, and due to its popularity, you'll find people waiting outside before concerts or sporting events, making it well worth stopping by even if you're just passing through!
Address: 850 W Front St, Boise, ID 83702
Boise Art Glass, Boise, ID
One of the best ways to enjoy creative glass art is visiting Boise Art Glass. This downtown business creates a wide range of unique items, and their on-site gallery allows you to see these works up close and even purchase something to take home.
The Boise Art Glass Center offers workshops, demonstrations, and events for artists of all levels. There are classes for learning how to use the torches, and you'll even get your chance to create your own glass masterpiece!
Address: 1124 W Front St, Boise, ID 83702
Table Rock
Table Rock is one of the most popular attractions in Boise. It is located near downtown and offers a scenic view of the entire city. Table Rock stands right above the city and is recognized for the 60-foot cross at the top of the hike.
The best way to get to Table Rock is by hiking the Table Rock Trail, the most popular hike in the Boise area. You can start your hike at the Old Penitentiary parking lot and hike to the top, which takes about an hour and a half to get to the top of Table Rock.
Basque Museum & Cultural Center
The Basque Museum is the only museum dedicated to Basques in America. Its mission is to preserve, promote, and perpetuate Basque history and culture, and they do this through permanent exhibitions and collections at the museum.
The Basque Museum & Cultural Center was established in 1985 as a small museum in the historic Cyrus Jacobs-Uberuaga House, a former Basque boarding house and the oldest brick structure in the city. It provides a look into the heritage of the Basque communities of Idaho and surrounding areas.
Brewery Tour
Boise is one of the fastest-growing cities in America, making it the perfect place to go for a brewery hopping adventure. There are over 20 breweries to choose from, and more and more beer lovers are flocking to Boise demanding quality craft beer that rivals some of the major city breweries like Portland and Seattle.
You can either go on your own brewery tour or join a guided excursion that takes you to three fantastic local breweries. Don't miss a flight of beer while learning about the grain-to-bottle process and the backstory of the creative individuals who created these superb local brews.
Boise Whitewater Park
Idaho is one of the hot spots on every inland surfer's bucket list, and the Boise Urban Whitewater Park is right up there in the top 3. The park offers waves suitable for all levels of surfers, so it's great for beginners and experts alike.
While surfing, you can practice your moves, paddling a stand-up paddleboard, kayaking, or rafting. Boise Whitewater Park is a great place to find fun in the sun and practice your moves for summer.
Address: 3400 W Pleasanton Ave, Boise, ID 83702
Idaho Anne Frank Human Rights Memorial
The Idaho Anne Frank Human Rights Memorial is one of the most moving attractions in Boise. It is a memorial to Anne Frank, who wrote her famous diary during World War II while she and her family hid from the Nazis.
The Boise Memorial is the only Anne Frank Memorial in the United States and one of the few places in the world where the Universal Declaration of Human Rights (UDHR) is on permanent, public display in its entirety.
The Memorial includes a life-sized bronze statue of Anne Frank as she peers out an open window. The Memorial comprises several major elements: Attic Amphitheater, Memorial Quotes Walls, Water Feature, Rose Beal Legacy Garden, and Marilyn Shuler Classroom for Human Rights.
Human rights quotes are incorporated within these elements and featured throughout the Memorial.
Address: 777 S 8th St, Boise, ID 83702
Float the Boise River
One of the best ways to enjoy all that Boise offers is by floating on the river! The Boise River float is a 6-mile river section that flows through downtown Boise. There are only a few cities in the country where you can float a river right in the middle of the city, and Boise is one of them!
The 2-3 hour float begins at Barber Park and ends at Ann Morrison park; you can learn more about the float, raft, tube rentals, and the shuttle service here.
Visit Hyde Park Neighborhood in Boise
Hyde Park is a neighborhood in Boise known for its history, architecture, and active community. The historic homes, lively restaurants, and specialty shops are all that give Hyde Park its quaint character and make it a great area to visit.
Every day Hyde Park is bustling with activity. With easy access to the Boise foothills, it has now become the official mountain and road biking headquarters of the Treasure Valley.
It's an excellent place for an evening stroll for ice cream at Goody's Goodies or brunch with friends at Java cafe.
Capital City Public Market, Boise, Idaho
The capital city public market consists of 150+ local businesses and is a fantastic place for fresh produce and live music performances. It's a unique experience in the city of Boise that provides entertainment while you shop.
Address: 303 E. 34th Street Garden City, ID 83714