The Best Things To Do In Coeur d'Alene For Families
Adventure-seeking families can find the most exciting list of things to do in Coeur d'Alene and turn their vacation into something that will be cherished for years to come.
From beautiful gardens to natural hiking trails, theme parks and water parks are the perfect destinations for everyone in the family. Let's check out these Fun Things To Do In Coeur D'Alene With Kids.
Experience Triple Play Family Fun Park
If you're in Coeur d'Alene and want to spend some quality family time together, there are a number of options you can pick from.
Top of the list is the Triple Play Family Fun Park where everyone in the family is sure to have a blast. There's something for everyone in this awesome and adventurous place.
The park offers numerous activities that will keep you busy for an entire day. Go-karting, bumper boats and cars, mini-golf, climbing wall, laser tag, bowling, ropes course, laser maze, heated water slides, and a wave pool promise to keep everyone entertained.
So plan your next weekend adventure at the Triple Play family fun park in Coeur d'Alene Idaho.
Raptor Reef Indoor Water Park
Did someone say water park? Well, this exciting spot features a wave pool and 2 story play structure with a tipping bucket for you and your kids to have tons of fun.
The water park also has four massive water slides, including The Constrictor, that is rated one of the top 5 most extreme slides in the world and was featured on an episode of Travel Channel's Xtreme Waterparks.
RELATED:
Coeur d'Alene In Winter – Best Things To Do In A Winter Wonderland
Scarywood Haunted Nights- North of Coeur d' Alene
Fun things to do in Coeur d'Alene with your family over the weekend include a little trip to the haunted nights of Scarywood. If you're a fan of horror movies and spooky stuff, this place is definitely going to make your trip to Coeur d'Alene an unforgettable one.
It's not just about a scary guy dressed up to scare the heck out of you, it's basically a haunted attraction where you come across a frightening monster every step of the way. You can take the thrill to a next level by taking rides in the dark. 
The Salvation Army Kroc Center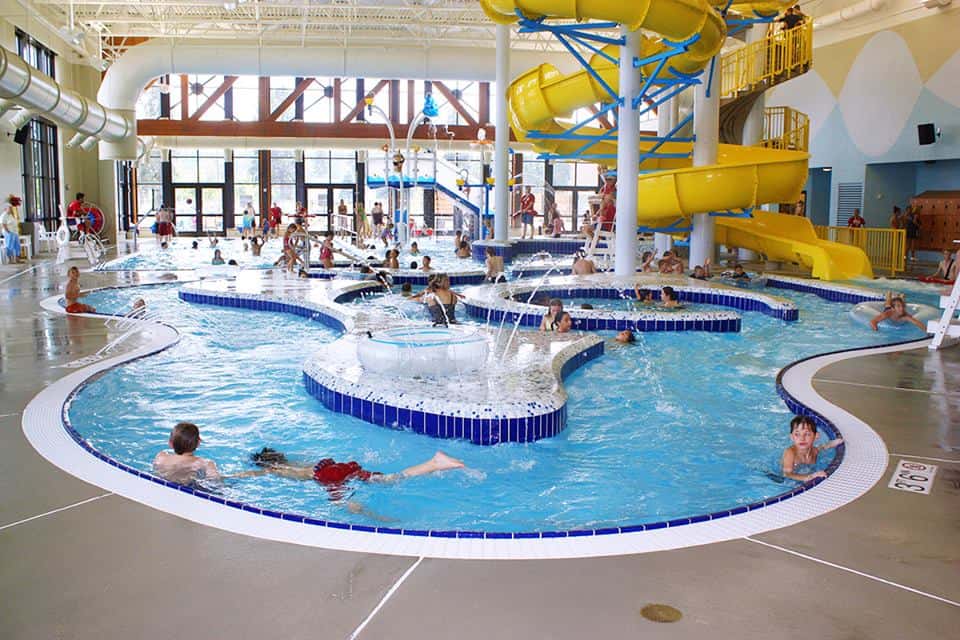 Located on 12 acres, the 132,000 square-foot Salvation Army Kroc Center is the largest community center of its kind in Coeur d'Alene.
Featuring a Competition/Lap Pool, Group Exercise Classes, Health & Wellness Center, Worship & Performing Arts Center, Multi-Use Gymnasium, Play Care Center, Family Pool with Water Slides, State-of-the-Art Fitness Equipment, Weight and Stretching Rooms, Climbing Wall and more!
Walk And Enjoy The Museum of North Idaho
The museum is a great place to explore the rich history of Northern Idaho. Learn about the Native Americans and the Coeur d'Alene tribe, steamboats, and the massive 1910 fires.
Delight your family at Figpickles Toy Emporium
Time to make your kids feel special by taking them to the heaven of toys designed especially for kids of all ages.
Grown-ups won't get bored there, in fact, they are going to have so much fun because of all the educational, informative, and interactive toys they can pick for their kids. This place offers you a chance to wake your inner kid as well.
Enjoy One Of The Many Beaches In Coeur d'Alene
Coeur d'Alene has plenty of beaches to explore with your family. Whether you're looking for a relaxing spot on the lake or an active beach with lots of activities, there's something here for everyone.
Spend your days swimming, kayaking, and paddle boarding in the crystal-clear waters or go on a hike along the trails that surround the lake.
Take A Walk Along One Of The Longest Floating Boardwalks That Exists
Lake Coeur d'Alene is a true Idaho gem, and the boardwalk lets you experience it in all its glory.
From the center of Coeur d'Alene Resort, this unique floating boardwalk stretches almost one mile long! With plenty of benches you can sit and relax or just take in the beauty of the nature around you.
Rent a Kayak Or Paddle Board With Your Kids
There's no better way to enjoy Lake Coeur deAlene than by water. Rent a kayak or paddle board from one of the many local vendors and take an adventure around the lake with your family. With its crystal-clear waters, mild temperatures and stunning views, you are sure to have a great time!
Take a break and stop at one of the many islands along the way for a picnic and some time to relax.
Timberline Adventures (One Of The Best Activities For Families)
Wake your inner rockstar and go for something extraordinary on your next trip to Coeur d'Alene. This can easily be one of the top things to do with the family in Idaho as there are a number of options to pick your favorite adventure from. Plan a full-day trip to make the most out of your visit to breathtaking ziplines, world-class sky bridges, and most importantly, a great meal.
Enjoy A Boat Rental In Coeur d'Alene
Take your family out for a day on the lake with a boat rental. With everything from pontoon boats, and jet skis to powerboats, you'll have plenty of options to choose from. Rentals are available in different sizes and styles so you're sure to find something that suits your needs.
The lake is filled with beautiful views and plentiful wildlife, making it perfect for a relaxing day out. Whether you're looking for a peaceful trip or an exciting adventure on the water, Coeur d'Alene has something to offer everyone.
Enjoy A Walk Downtown Coeur d'Alene
The downtown corridor full of entertainment, restaurants, and unique mom and pop shops are here for you to explore. The bright and sunny streets are lined with hundreds of retail stores and restaurants.
People from all across the world gather here to experience soothing street music and theatre. Almost all the streets lead to Lake Coeur d'Alene or pine-forested mountains so don't forget to carry your camera along for some great family pics. 
Explore Tubbs Hill One Of The Best Recreational Activities For Families
What makes Coeur d'Alene so appealing to visitors is its combination of city life and outdoor access. Just a block away from all the shops and restaurants is Tubbs Hill, a 120-acre nature area with hiking trails that lead to small beaches, stunning cliffs, and more.
Enjoy an afternoon with your family hiking the 2.2-mile interpretive trail or venturing off the beaten path to explore on your own. With picture-perfect views of the lake, it'll be hard to find a more idyllic spot to relax while the kids play.
Explore Coeur d'Alene Bike Trails With The Whole Family
Another exciting thing to do in Coeur d'Alene with family is to explore the town and surrounding area on a bike and take in the immense scenery. With stunning landscape and gorgeous biking trails, you can get your exercise and enjoy it too. Here's a copy of the biking trails. Now get
out there and explore, I promise you won't be disappointed.
Tree to Tree Idaho Adventure Course (Family Fun For All Ages)
It's not just for kids. All the grown-ups should buckle up for the most adventurous and fun activity in the city of Coeur d'Alene. If you're in the city for the weekend, take a full-day trip to enjoy zip lines, Tarzan swings, and other engaging obstacles for people of all ages.
It's an ultimate family adventure that not only challenges your body but your mind as well so get ready to challenge yourself like never before.
McEuen Park
Located in the heart of downtown this massive park has a lot to offer. The recent $20 million dollar remodel of the park has made this a great place for the entire family.
Located along the shores of Lake Coeur d'Alene the park features, splash pad water park, tennis/pickle ball, basketball, off-leash dog park, waterfront concession stand, veterans memorial, and a ton of open grass space.
Indoor Things To Do With Kids In Coeur d'Alene
Roller Skate At Skate Plaza
Roller skating is a fantastic activity for kids, and at Skate Plaza in Coeur d'Alene, they can enjoy a well-maintained indoor rink with plenty of space to skate.
There's also an arcade, snack bar and plenty of tables where parents can sit and watch their children skate. Of course, parents are welcome to join in the fun too!
The rink offers both skate rentals and the opportunity for kids to bring their own skates. They also have a helpful PVC skating mat that can be rented by younger children who need help practicing balancing. In addition, the snack bar will keep you fueled with cookies, nachos, soda, and other eats.
Jump And Bounce At Jump For Joy
If you're looking for a place where your kids can let loose and have some fun, while getting in a good workout, look no further than Jump for Joy. This indoor playground is full of bounce houses and inflatable slides that will keep the little ones entertained for hours on end.
Kids of all ages love playing at Jump for Joy, from 2 year-olds who were barely crawling to 8 year-olds who could fully appreciate all the fun that bounce houses have to offer.
Not only is this indoor recreation area a great way for kids to get some exercise on cold or rainy days, but it also makes the perfect setting for your child's next birthday party!
Here are some more great things to do with kids in the Boise area:
17 Fun Things To Do With Kids In Boise
​​10 Unforgettable Fire Lookout Rentals in Idaho