There are plenty of free things to do in Boise, Idaho. One of the most popular free activities is wandering around downtown and checking out the local businesses and restaurants. The Basque Block is a great place to start, with its colorful buildings, unique shops, and tasty restaurants.
Another free activity is exploring Boise's parks. The city has nearly 100 parks, so there's sure to be one near you. They offer a variety of activities, from playgrounds and picnic areas to basketball courts and ponds. My personal favorite park is Ann Morrison Park, which features a large pond with a walking path around it and a playground for kids.
1. BOISE RIVER GREENBELT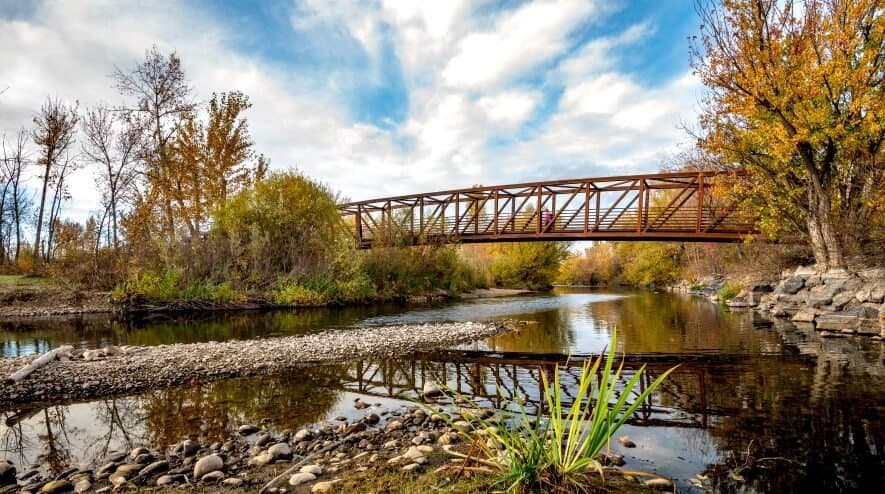 If you're looking for a fun outdoor activity that the whole family can enjoy, consider exploring Boise River Greenbelt's trail system! With nearly 25 miles of trails to choose from, there's something for everyone. The trails are well-marked and easy to navigate, making them perfect for inexperienced hikers.
The best part about the Boise River Greenbelt is that it's right in the heart of the city. You can access the trail system from nearly any neighborhood in Boise, making it a great option for urbanites who don't have time to travel far for a good hike.
So if you're looking for a new outdoor adventure to check out this summer, be sure to explore Boise River Greenbelt's trail system!
2. IDAHO STATE CAPITOL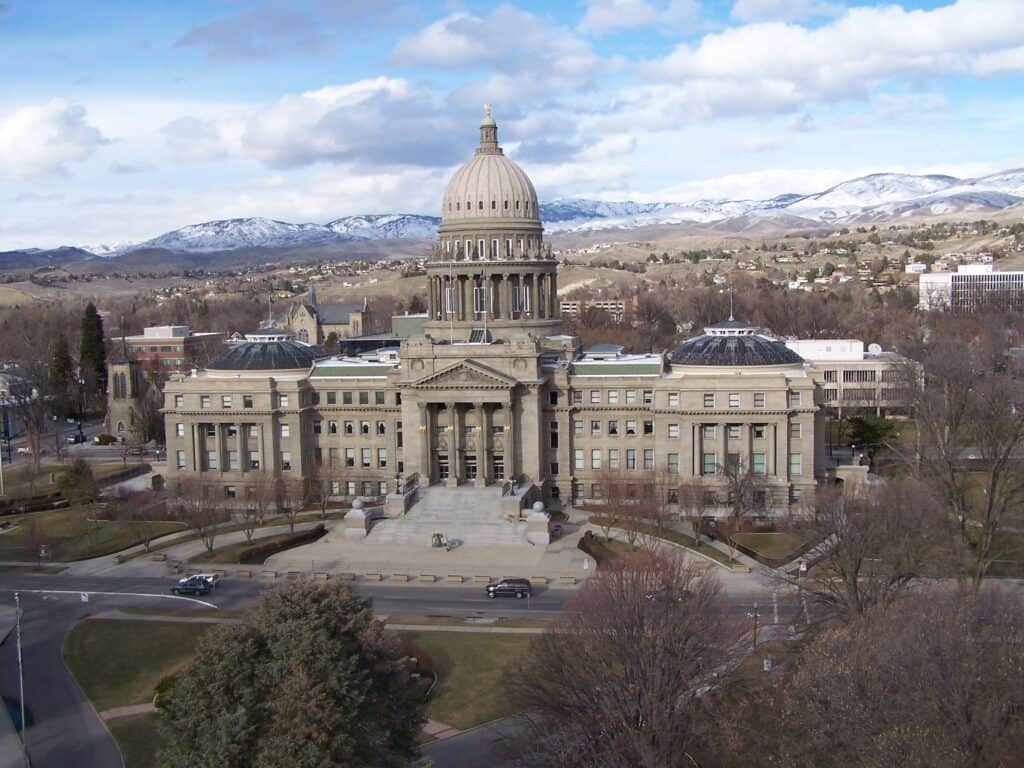 700 W Jefferson St, Boise, ID 83702
The Boise City Capitol building is a must-see for visitors to Boise. This beautiful building is the home of the Idaho legislature and is filled with historical displays and artwork.
The Capitol building was constructed in 1903 and is made out of sandstone and granite. It's one of the most beautiful buildings in the state, and its architecture is inspired by the Italian Renaissance style.
Inside the Capitol, you'll find a number of interesting displays. There's a replica of the Liberty Bell, as well as a statue of Sacagawea, a Lewis and Clark expedition member who was an important part of Pacific Northwest history. The Capitol also features beautiful murals depicting scenes from Idaho's history.
If you're looking for a unique gift, you'll want to visit the Boise City Capitol Building Gift Shop.
Download your Self Guided Idaho State Capitol Tour and be sure to take some time exploring the capitol building.
3. BOISE DEPOT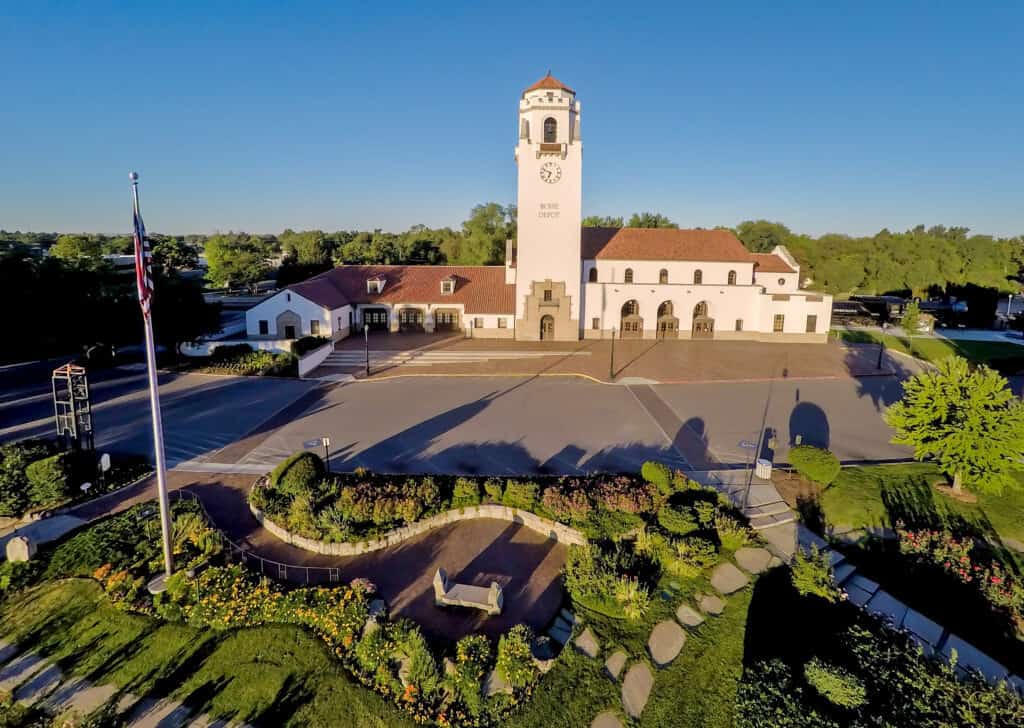 2603 W Eastover Terrace, Boise, ID 83706
The Boise train depot is a beautiful example of neoclassical architecture. The building has a grandiose entrance with two large columns and a stately roofline. Visitors can step inside the depot to explore the exhibits in the visitor center, or they can walk around the outside of the building to admire the details of the architecture.
4. FREAK ALLEY
Some people might think that Boise, Idaho is just a sleepy little town in the middle of nowhere. But if you know where to look, you'll find all sorts of weird and wonderful things happening right under your nose. One of my favorite places to explore is Freak Alley, a hidden gem located in the heart of downtown Boise.
Freak Alley is an outdoor art gallery that features the work of local artists and street performers. It's a great place to go for a walk and take in the sights and sounds of downtown Boise. The alley is constantly changing, so there's always something new to see.
5. BOISE STATE UNIVERSITY BLUE TURF
1400 Bronco Ln, Boise, ID 83706
One of the highlights of a visit to Boise State University is touring the stadium hall of fame. The hall of fame celebrates the accomplishments of the football team and features displays that chronicle the team's history. There is also a gift shop where visitors can purchase souvenirs.
The Boise State University Stadium Hall of Fame was created in 2005 to honor the best players, coaches and teams in the history of Bronco football. The hall of fame is located in the east end zone of Albertsons Stadium, and features a rotunda with three levels. The top level honors all of Boise State's national championship teams, while the middle level recognizes the best players in school history. The bottom level is home to the Bronco Walk of Fame, which features bronze plaques commemorating every player who has ever played for Boise State.
6. MK NATURE CENTER
600 S Walnut St, Boise, ID 83712
The Morrison-Knudsen Nature Center is a gem of a discovery for anyone who has ever been enthralled by the fascinating world of insects, birds and other wildlife. In addition to being a terrific place to learn about the conservation efforts going on in this region, it also happens to have some terrific educational programs available for kids and families.
Kids will love the underwater viewing windows where you can get face to face with native Idaho fish.
7. HIKE TABLE ROCK TRAIL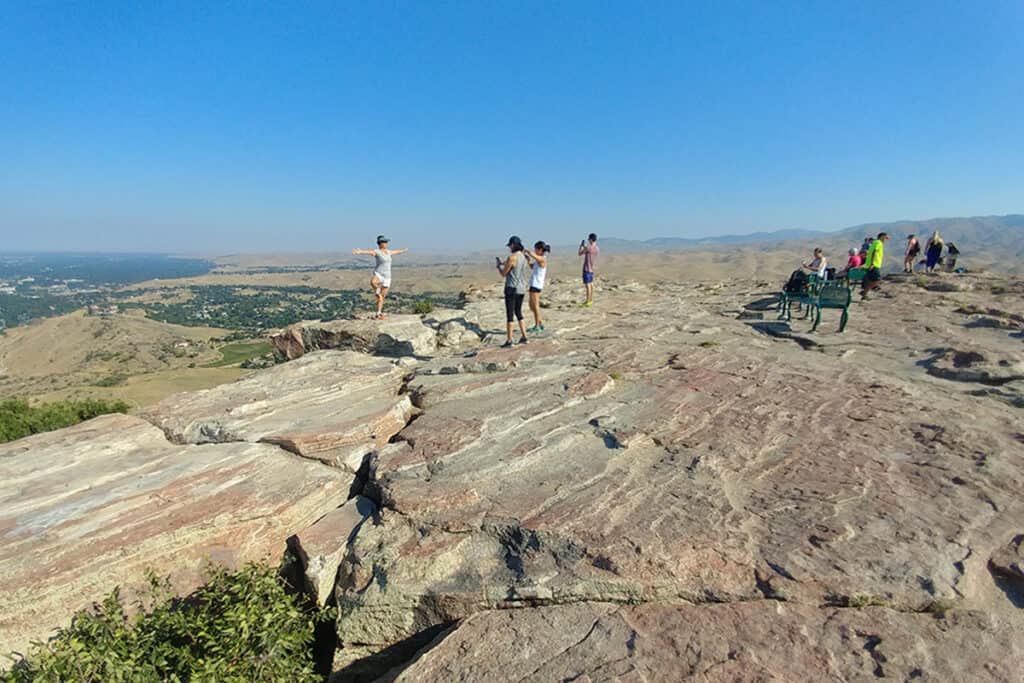 Check out, 15 Hikes Near Boise – Beginner To Advanced for directions on this hike
Table Rock is a popular hiking destination just outside of Boise, Idaho. The hike to the summit is about 3 miles round trip and offers beautiful views of the city and the surrounding mountains.
The trail starts at Table Rock Park, which can be accessed from either Bogus Basin Road or Eagle Road. There is a small parking lot at the park, but it can often fill up on weekends, so you may have to park along the side of the road.
8. CAMEL'S BACK PARK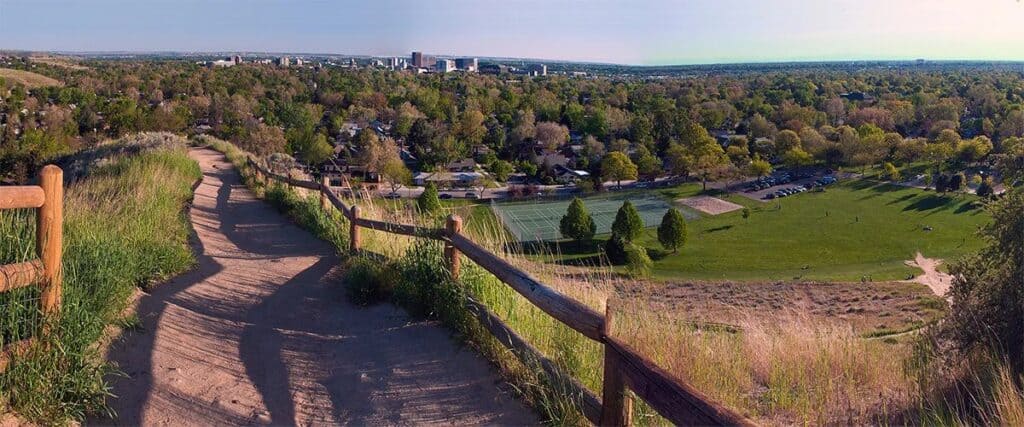 1200 Heron St, Boise, ID 83702
Camel's Back Park is a popular spot for locals and visitors alike. The park is home to a playground, tennis courts, and a large open space that's perfect for picnics, Frisbee-throwing, and dog-walking. In the fall, the park transforms into a pumpkin patch, and in the winter it becomes a sledding hill.
9. ANNE FRANK HUMAN RIGHTS MEMORIAL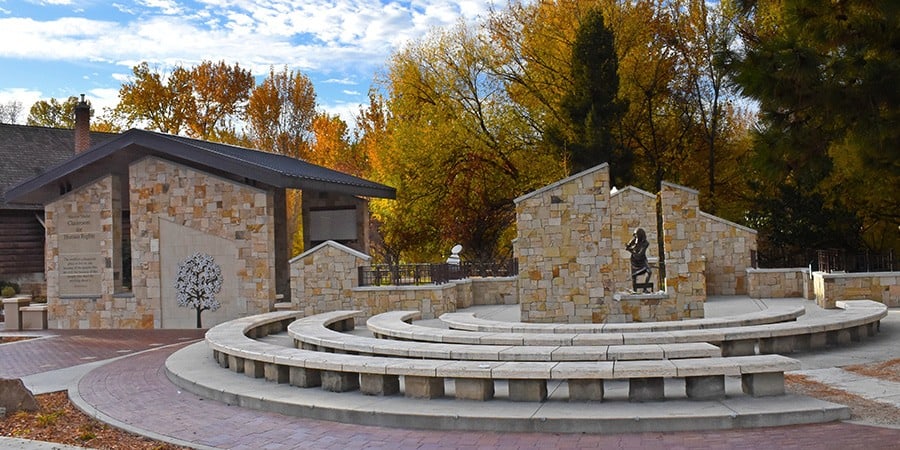 The Anne Frank Human Rights Memorial is a powerful tribute to the life of Anne Frank, and to the importance of human rights. The memorial is located in downtown Boise, Idaho, and was dedicated in 2002.
The memorial consists of two parts: a plaza and a tower. The plaza features a large metal sculpture depicting people standing up for human rights, and is inscribed with excerpts from Anne Frank's diary. The tower contains a museum that tells the story of Anne Frank's life and death, as well as the history of human rights violations around the world.
The memorial is a moving experience, and provides a powerful reminder of the importance of human rights. It is definitely worth visit if you are in Boise!
10. JULIA DAVIS PARK AND MUSEUM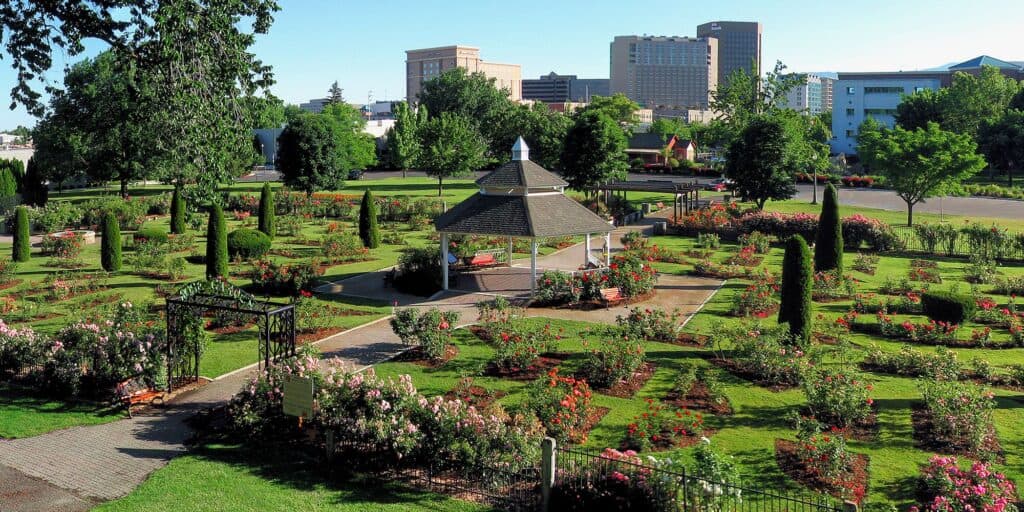 700 S Capitol Blvd, Boise, ID 83702
If you're looking for a fun place to visit in Boise, Idaho, Julia Davis Park is definitely worth checking out. This large park offers something for everyone, from playgrounds and picnic areas to gardens and ponds.
One of the best things about Julia Davis Park is its variety of activities. You can go for a walk, take your dog for a run, ride your bike, play some sports, or just relax by the river. The park also hosts special events throughout the year, such as concerts and art festivals.
No matter what you're interested in, Julia Davis Park is sure to have something for you. So if you're visiting Boise, be sure to stop by amazing park!
11. OREGON TRAIL HISTORIC RESERVE
Another spot for history lovers!
The Oregon Trail Reserve is a 77 acre site in Southeast Boise. The area features a scenic view of the Boise Front and the historic Kelton Ramp, a path forged by overland travelers heading down the rim to the Boise River.
The reserve is open sunrise to sunset, and offers hiking, bird watching, and wildlife viewing opportunities. Be sure to stop by the information kiosk near the entrance for more information on what you can see and do at the reserve.
12. VILLAGE AT MERIDIAN
3597 E Monarch Sky Ln #225, Meridian, ID 83646
A short drive from the city will take you to this amazing mall. From modern shops to an outdoor entertainment center, it has everything.
Entertain yourself to lively fountains, live music and an amazing water show. During November, the mall is converted into a winter wonderland and even has an outdoor ice skating rink.
13. CLEO'S FERRY MUSEUM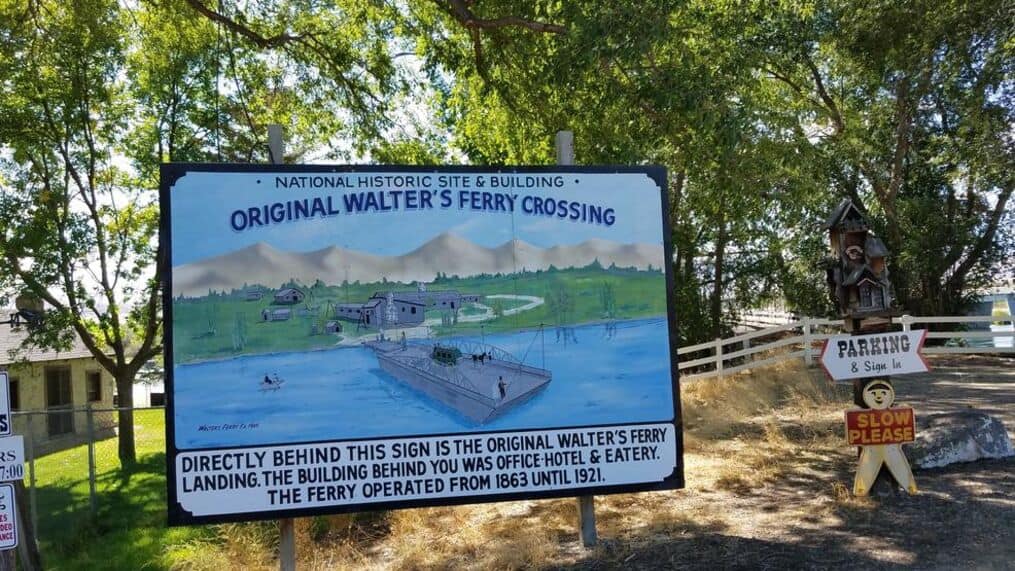 The Cleo's Ferry Museum is a great place to learn about the area's history. It's located in downtown Idaho, and it features exhibits on the local Native American tribes, the Oregon Trail, and more. The museum is open every day, and admission is free(donations are excepted).
If you want to learn more about the history of Idaho, make sure to visit the Cleo's Ferry Museum! You won't be disappointed.
14. CELEBRATION PARK
5000 Victory Ln, Melba, ID 83641
Situated near Snake River, the celebration park is the only archeological park in the state. Thankfully, it offers free tours. You can view petroglyphs carved into basalt rock as old as 10,000 years.
Furthermore, you can walk over the McGuffy Bridge and capture some stunning pictures.
15. CAPITAL CITY PUBLIC MARKET
910 W Main St Suite #242, Boise, ID 83702. Open Saturdays 10am – 2pm
The Boise City Public Market is a great free activity for families. There are always new and interesting things to see and do at the market, from watching the chefs prepare their food to browsing through the various stalls. Be sure to check out the local produce and artisanal goods!
Hope You Enjoyed The Many Free Things To Do In Boise
We hope you enjoyed exploring the beautiful state of Idaho with these free things to do in Boise, ID. Have a favorite spot not on this list? Share it with us and we will add your suggestion to our growing list of awesome outdoor activities that can be enjoyed for free.
You may also enjoy:
17 Fun Things To Do With Kids In Boise
11 Incredible Day Trips From Boise, Idaho
11 Idaho Ghost Towns You'll Never Forget