Summer in McCall, Idaho, is one of my absolute favorite times of the year. Having lived in McCall since 2004, We have had the opportunity to explore and appreciate all that this charming mountain town has to offer during the summer months.
One of my favorite things about summer in McCall is the abundance of outdoor activities. With its lakes, rivers, nearby hot springs, and rugged mountains, there is plenty to do for any outdoor lover.
Whether you're an outdoor adventurer, looking for relaxation, or in for a bit of both, McCall, Idaho, in the summer, has a bit of everything for everyone.
Our Favorite McCall Idaho Summer Activities
When it comes to summer activities in McCall, there is no shortage. McCall is a hot spot for tourists looking to enjoy the lake and explore the mountains.
Two of our favorite things to do during the summer are to explore Payette Lake and hit the local mountain bike trails (more about mountain biking in McCall below).
Payette Lake offers a refreshing escape from the summer heat, especially after a good ride.
Ponderosa State Park
Ponderosa State Park is a 1,515-acre park located on a peninsula extending into Payette Lake. It offers a variety of recreational activities, including hiking, biking, camping, boating, and swimming. The park has over 20 miles of trails, great for hikers and explorers.
Popular trails in Ponderosa include the Huckleberry Loop (our favorite), known for its lake views and huckleberry bushes, and the Lily Marsh Trail, which winds through wetlands and forests.
Enjoy The Beaches In McCall
Located along the shores of Payette Lake, the beaches in McCall offer sandy stretches and inviting waters. Whether you're looking to relax in the sun, lap swim, take a refreshing dip or paddleboard, the beaches provide a beautiful place to enjoy the summer.
Popular Beaches In McCall
There are plenty of places to enjoy the water of but here are some of the most popular places to spend a beach day.
Rotary Beach McCall (Has Roped of Swimming Area)
One popular beach in McCall is Rotary Park Beach. It offers a sandy shoreline, picnic areas, and grassy spaces for lounging. My favorite part about Rotary is the designated swimming area.
Legacy Park Beach
Is one of the most popular beaches in McCall, in the heart of town near the marina. Its convenient location makes it a great spot to enjoy all that McCall has to offer during the summer.
Davis Beach
At Davis Beach, you can enjoy a mix of sandy areas and shaded spots. This beach is known for its calm and clear waters, making it a popular spot for swimming and paddleboarding.
North Beach
For a different beach experience beyond the usual town spots, head out to North Beach, located at the Northern end of the lake. In the past, North Beach was known for its lively 4th of July party scene. However, in recent years, the atmosphere has changed, and it has become a more relaxed and family-friendly destination.
In the summer months, North Beach becomes a hub of activity. However, even during peak times, it maintains a relaxed vibe as the crowd tends to disperse along the shoreline.
Paddleboarding The Upper North Fork Of Payette River
If you're into paddleboarding, there is, of course, Payette Lake in the heart of town. However, if you want a unique paddleboarding experience, I recommend hitting up the Upper North Fork Of Payette River.
Also known by the locals as the "Meanders." This stretch of the river provides an excellent opportunity for paddleboarding while immersing yourself in nature.
Insider Tip: Keep your eyes open because along this stretch of the river you may even get the chance to see a moose along the way.
If you're in need of equipment, Backwoods Adventures provides rentals, including canoes, kayaks, and stand-up paddle boards, with life jackets included.
Rent A Boat In McCall
Boating in McCall is a fun way to explore the lake at your own speed. Whether you prefer the thrill of ski boats, the tranquility of fishing, or simply cruising along the shoreline. You can choose from a variety of types, such as pontoons, powerboats, and jet skis, to enjoy your day on the lake.
If you're interested in renting a boat there are a handful of places to choose from but for those looking for an easy boat rental experience I recommend checking out Mile High Marina.
Ice Cream Alley
Don't miss out on a visit to Ice Cream Alley in McCall. Located in the heart of town down a little breezeway, it's a popular spot offering some of the best ice cream. Choose from classic favorites to unique options served in waffle cones, sugar cones, or in a cup.
Shopping Around McCall
In downtown, you'll find boutique shops, art galleries, and specialty stores selling clothing, accessories, home decor, and souvenirs.
Outdoor gear stores cater to those interested in outdoor activities with a full lineup of good things to buy.
Bike Ride Around Payette Lake
The 18-mile loop around Payette Lake is a great option for those wanting to explore the area by bike. While a road bike is ok for most of the ride, it's good to know that approximately 4 miles of the loop consists of gravel and "washboardy" surface.
The majority of the loop is flat, with gentle uphills and downhills in the northeast corner. It's a great ride that allows you to fully experience Payette Lake and its surroundings to its fullest.
Rock Climbing
The Thinking Spot in McCall is the spot for climbers in the McCall area. This crag offers numerous routes catering to different skill levels, ranging from 5.7 to 5.11. Though I've never personally climbed here I here its a pretty good spot.
McCall Farmers Market
The McCall Farmers Market, held Wednesdays and Saturdays from 11-2 during the summer months, showcases local produce, organic meats, baked goods, and arts and crafts. It's a great place to get out and support the local growers and ranchers that surround the McCall area.
UTV Or ATV Riding
If you're looking for a spot to unleash your ATV or UTV, the trails of McCall are a great spot. Offering an extensive network of roads spanning hundreds of miles, it offers an unparalleled opportunity to explore off the beaten path.
We highly recommend utilizing the interactive Idaho Trails Online website as a valuable resource for exploring designated routes and trails in McCall that are suitable for motor vehicles. This user-friendly platform provides detailed information and maps, allowing you to plan your off-road adventures with ease.
Huckleberry Picking (Fun Activity For The Whole Family In McCall)
A family-friendly activity that is particularly special to McCall is huckleberry picking. The area is known for its abundant huckleberry patches, making it a perfect opportunity to enjoy a fun and rewarding outdoor adventure.
Good To Know:
Huckleberries are small, sweet berries that grow in the wild and have a distinct flavor that many people find irresistible.
When huckleberry picking, it's important to plan your outing during the right season, typically from late July to early September, when the berries are at their peak ripeness.
Some popular spots for huckleberry picking near McCall include the Payette National Forest and the areas surrounding Brundage Mountain.
Horseback Riding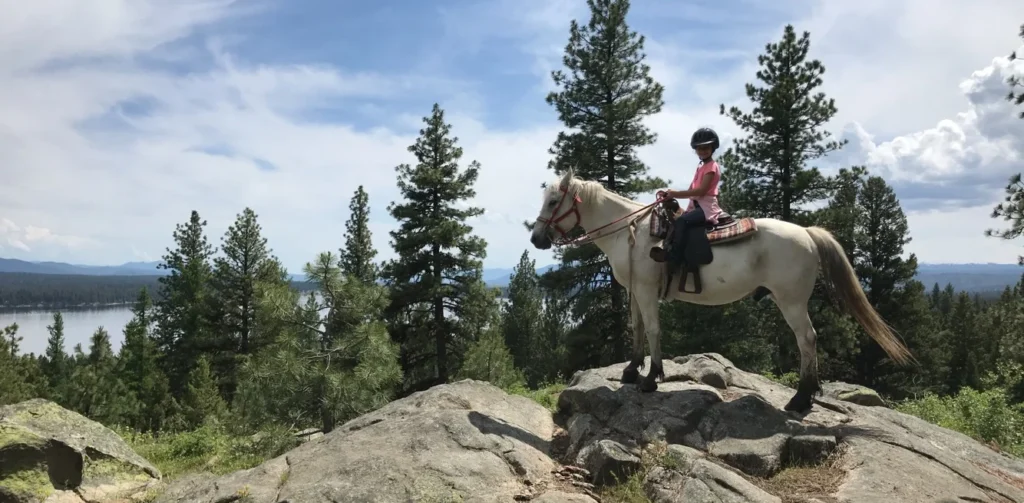 Elevate your summer in McCall with a horseback riding adventure with Ya-Hoo Corrals. This outfitter provides guided horseback rides through the trails of McCall while sharing their knowledge of the local history, wildlife, and other secrets along the way.
The friendly and knowledgeable staff will ensure your safety and provide assistance throughout the ride, ensuring a memorable and enjoyable experience.
Mountain Biking In McCall
McCall, offers incredible opportunities for mountain bikers. With its diverse terrain and great views, it's a perfect area to get in some mountain biking.
Brundage Mountain Mt Biking
One popular mountain biking area is Brundage Mountain. The mountain has a network of well-maintained trails that cater to riders of various abilities. From smooth and flowing singletracks to more technical and challenging trails, you'll find options that suit your preferences and skill level.
Jug Mountain Ranch Mountain Biking
One of our favorite places to ride is Jug Mountain Ranch. This mountain biking area features an extensive trail system with options for downhill lovers. The well-designed trails provide an exhilarating experience as you descend through twists, turns, jumps, and berms.
Our favorite trail at Jug is Berm and Ernie and if you're looking for a challenging trail with drops and technical sections Double Shot is a favorite by many.
Bear Basin Trails
Bear Basin features a single-track trail system with two flow trails, (upper and lower drain-which are our favorite trails at Bear Basin) a pump track, and around 15 miles of beginner to intermediate cross-country single track. With its varied, it provides an enjoyable experience for riders of all skill levels.
Take The McCall Scenic Cruise Boat Ride
Experience the beauty of McCall, from the water by taking a cruise around Payette Lake. This fun and spacious boat is perfect for taking in all that the lake has to offer. Sit back, relax, and take in the views as you sail across Payette Lake aboard The IDAHO.
Public Cruises are available from the middle of May to the end of September, Tuesday through Sunday, at 2:00 p.m. Additionally, Sunset Cruises are offered at specific times.
For special theme-cruise dates and departure times, visit their website at www.mccalllakecruises.com.
Public cruise fares typically range from $30 to $40.00 per person.
Brundage Mountain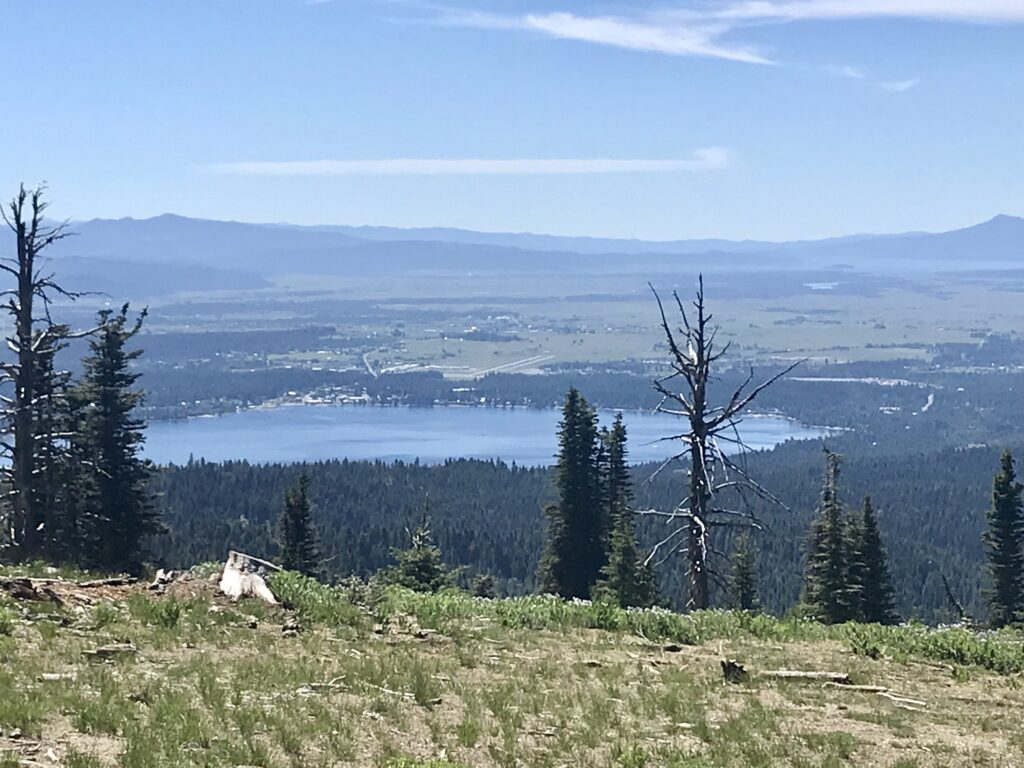 Brundage Mountain offers an excellent experience for people looking for lift-served hiking and biking access. This mountainous playground is a great spot for outdoor enthusiasts, providing convenient access to fun and adventure.
During the summer, the mountain operates chairlifts that provide convenient access to the scenic hiking trails. The lift service allows you to maximize your time on the trails and enjoy the beauty of the area.
If mountain biking is more your style, Brundage has a great network of trails specifically designed for riders. The lift-served access eliminates the need for strenuous uphill climbs, allowing you to focus on the enjoyment of exploring the mountain.
Hot Springs
Living in McCall has provided me with countless opportunities to explore nearby hot springs and natural (secret) soaking holes. These hiddengems are perfect for relaxation and rejuvenation.
Soaking in the warm geothermal waters while surrounded by pristine wilderness is a true luxury.
Hiking In McCall
If you're into hiking, McCall should definitely be on your list. The area has a ton of trails both close to town and in the surrounding backcountry.
If you're looking for something close to town Ponderosa State Park, is a great spot for hikers. Covering a peninsula that juts into the lake, the park is full of different trails with great views.
One of our favorite trails is the Huckleberry Loop. This moderate 6.5-mile loop offers beautiful views of Payette Lake and runs along the eastern side of Ponderosa State Park, with a couple of great places to get into the lake to cool off on a hot summer day.
If panoramic views are your thing, then the Osprey Viewpoint trail is a must. This 1-mile trail takes you to a stunning viewpoint overlooking Payette Lake and the surrounding mountains.
Popular Hiking Trails in and Around McCall
Bear Basin: A few miles northwest of McCall, the Bear Basin Trails offer a web of interconnected trails for hikers and mountain bikers. The trails are particularly popular in spring when wildflowers are in full bloom.
Goose Creek Falls Trail: Just a short drive from town, you can hit up Goose Creek Falls, which is a beautiful shaded hike that leads you to an impressive waterfall. This moderately difficult trail, around 5 miles round trip, meanders through a dense forest of tall pine trees that provide plenty of shade, making it a great option for warmer days.
Jug Mountain Ranch Trails: Jug Mountain offers a bit of something for everyone.
Louie Lake: Louie Lake is a great alpine lake, characterized by its deep-blue color and surrounded by the striking grey cliffs of Jughandle Mountain.
Loon Lake / Ruby Meadows Trails: For more adventurous souls, the Loon Lake/Ruby Meadows trails provide a more challenging yet rewarding experience. These trails cover varied terrain with steep inclines, but hikers are rewarded with some great views.
Most people who hike to Loon Lake are unaware of the B-23 Dragon Bomber crash that happened in 1943. If you head out to Loon Lake be sure to check out the wreckage that still remains close to the lake.
Festivals, Events, And Music In McCall
McCall is a vibrant destination that offers a range of festivals, events, and live music throughout the year.
Fourth of July Celebration
McCall's Fourth of July festivities are not to be missed. Enjoy a day full of fun with beachside activities, live music, and fireworks, creating a festive atmosphere that brings the community together.
Roseberry Music Festival
One of our favorite festivals in McCall during the summer is the Roseberry Music Festival. This annual event brings together music enthusiasts for three days of music fun. Held in the historic town of Roseberry, just a short drive from McCall, the festival showcases a diverse lineup of talented musicians across various genres.
The Roseberry Music Festival fosters a sense of community and togetherness. Friends, families, and neighbors come together to celebrate their shared love of music. The friendly and welcoming atmosphere makes it easy to strike up conversations with fellow festival-goers and make new connections.
The historic town of Rosebery itself adds to the festival's charm. With its well-preserved buildings and rich history, it offers a captivating backdrop for the festivities.
Outdoor Music In McCall
During the summer months in McCall there is no shortage of live music. From places like Foresters, Salmon River Brewery and Crustys (on occasion) offering live music you're sure to find a music show you'll enjoy
Tuesdays At The Terrace
Take in the views of Payette Lake during "Tuesday at the Terrace"!
Located on the Ponderosa Center Terrace in downtown McCall, just across from Legacy Park, this series of events brings the community together for an evening of FREE live music.
Thanks to a collaboration between the McCall Area Chamber of Commerce and local business sponsors, residents and visitors can enjoy the lively tunes while taking in the views of Payette Lake throughout the summer season.
Get Out And Explore McCall Idaho Summer Activities
McCall, Idaho offers an array of exciting summer activities for outdoor enthusiasts and nature lovers alike. From hiking and biking in the scenic landscapes to engaging in thrilling water sports on Payette Lake, there is no shortage of adventures to be had.
Whether you prefer mountain biking through the trails, casting your line for a day of fishing, or simply basking in the beauty of nature, McCall provides the perfect backdrop for unforgettable summer experiences.
So, get out and explore all that McCall has to offer, and create cherished memories in this remarkable outdoor playground.