The "Boise Urban" wine region is quickly becoming a hot spot for delicious wine, cuisine, art, and a thriving outdoor culture, making Boise an ideal place to sip amazing wines with friends and family. The local vineyards sit between the Snake River and the Rocky Mountains and in 2007 were officially incorporated into the Snake River Valley American Viticultural Area. The wine history here dates back to the 1800's when French and German winemakers began making a name for themselves with Idaho-grown grapes.
These locally owned and operated wineries that make up the Boise Urban wine region are spread throughout the surrounding hills but conveniently have tasting rooms in the downtown corridor. This makes for a fun and safe experience where you won't need to drive all over to sample amazing wine.
Cinder Wines
Address: 107 E 44th St, Garden City, ID 83714
Phone: (208) 906-0555
Website
Cinder Wine maker Melanie Krause grew up in Idaho and began her wine making journey as a wine consultant. As a consultant she traveled to Idaho wineries sharing her vast knowledge of viticulture and wine making. Today she produces award winning wines for Cinder and has a beautiful and fun tasting room in Garden City.
Are you familiar with Groupon? If not you are missing out. Groupon is FREE to use and offers discounts to restaurants plus a bunch of other Boise businesses. Here are the latest deals for Boise – CLICK HERE
Split Rail Winery
Address: 3200 W Chinden Blvd, Garden City, ID 83714
Phone: (208) 490-0681
Website
Split Rail Winery believes in supporting local agriculture and the creation of Idaho-centric wines all while exploring new wines and styles. The owners, Jed Glavin and Laura Hefner-Glavin, took their wine making hobby and turned it into something truly unique.
Coiled Wines
Boise Address: 813 W Bannock St, Boise, ID 83702
Garden City Address: 3408 W Chinden Blvd, Garden City, ID 83714
Website
Phone: (208) 820-8466
Named after Boise's neighboring grape-growing appellation, the Snake River Valley AVA, Coiled Wines produced its first Syrah in 2008. Today they produce over 2,000 cases per year featuring the grape varieties Petit Verdot, Petite Syrah, Riesling, Syrah, Chablis, and Rosé. They have tasting room locations in Garden City and downtown Boise, both are absolutely stunning!
Par Terre Winery
Address: 4338 W Chinden Blvd, Garden City, ID 83714
Phone: (208) 991-0402
Website
This small-batch winery got its roots from ballet dancing. The owners first met as ballet dancers and named their winery after the dance term "on the ground." From garage to professional wine makers this couple is going nowhere but up in the thriving Boise winery scene.
Potter Wines
Address: 5286 W Chinden Blvd, Garden City, ID 83714
Phone:(208) 793-1773
Website
Winemaker Von of Potter Wines wanted his wine to raise eyebrows, pep-up palettes and make meals sizzle. Potter wines even went as far to say that they think of their customers as risk takers. A truly unique winery with some traditional varieties but what they are most known for is their Jalapeno wine. A must try Boise winery…
Telaya Wine Co
Address: 240 E 32nd St, Garden City, ID 83714
Phone: (208) 557-9463
Website
Telaya winery sits right along the Garden City Greenbelt and is a fun place to stop while on a bike ride or walk along the river. They have a magnificent tasting room complete with a dog friendly patio. The name Telaya comes from their two favorite places, the Tetons and La Playa. Their dream of opening a winery started on the beaches of Baja as the searched for a way to spend time together as a family and ditch their corporate jobs.
Rolling Hills Vineyard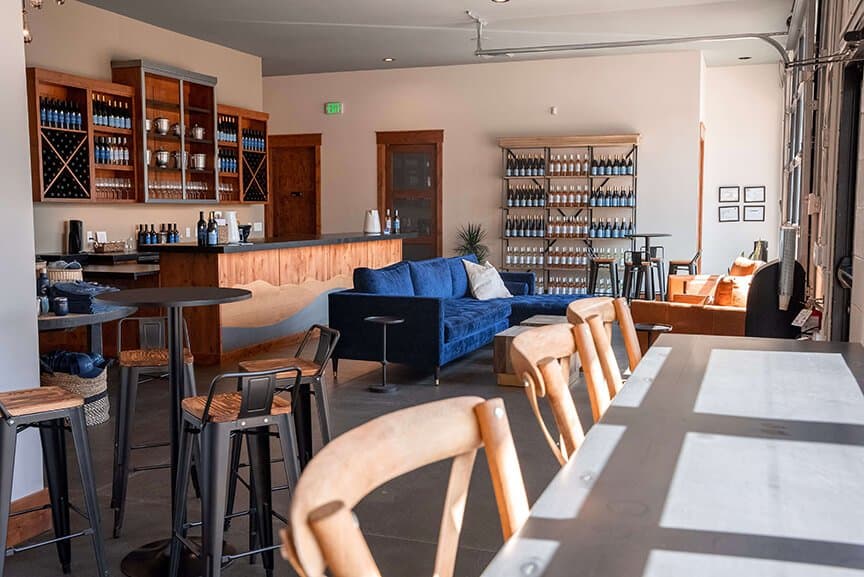 Address: 152 E 52nd St, Garden City, ID 83714
Phone: (208) 948-3136
Website
Rolling Hills has a long family history of wine making dating back to the 1960's. This tradition lives on with terrific locally made wine from the hillsides of Eagle Idaho. They have a beautiful wine tasting location in Garden City making it a perfect addition to your next Boise wine tour.
Final Thoughts On Boise's Best Wineries
As you can see the Boise wine scene is thriving with new tasting rooms and wineries opening every year. With many of the winery tasting rooms centered around Garden City, you can winery hop without the need for long drives or even better tour them on a bicycle. There are even organized wine tours where you can leave the driving to someone else.
Check out Idaho Wine Tours for more hosted wine tour excursions.